'I refuse to be dependent on inhalers even though a lot of other riders use them'
Tim Wellens says that he will not use asthma medication despite being told about improved breathing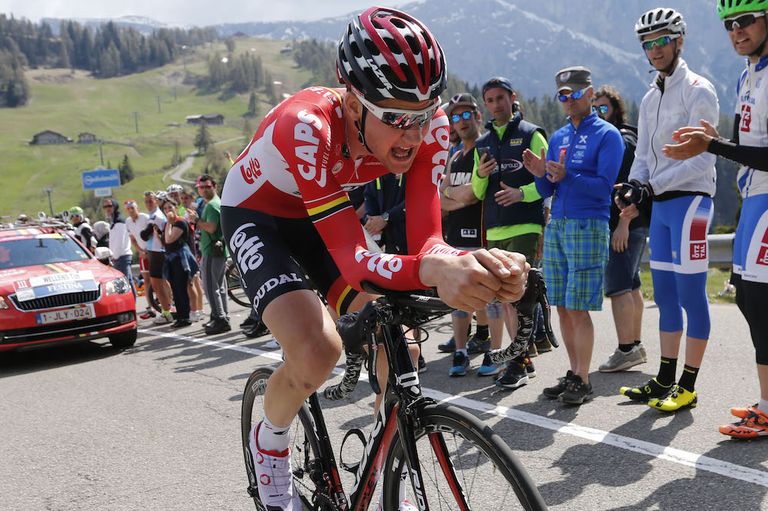 (Image credit: Yuzuru Sunada)
"It really bothers me to see cyclists use TUEs. Certainly sometimes we have no choice, but it is up to everyone to decide in his soul and conscience if to use it or not. In my life, I have never accepted a TUE.
Belgian cyclist Tim Wellens (Lotto-Soudal) says that he refuses to be dependent on inhalers, and is against the use asthma drugs by professional cyclists.
"As a pro cyclist, I do a lot of tests in the hospital, I sometimes feel some discomfort in the bronchi, so I learned that with a puff, I could increase my breathing capacity by seven or eight per cent!
Watch: Tour Down Under 2018 essential guide
"I would like it to be white or black and not grey, we all know that a product like cortisone – which is in the grey zone – provides many physical benefits... Sometimes because we're sick, we have no choice, we have to use it, but we can always decide to stop."
>>> Chris Froome anti-doping investigation should not have been made public, says British Cycling boss
Wellens's comments come as Team Sky's Chris Froome is involved in an investigation with the Cycling Anti-Doping Foundation (CADF) after being found to have twice the permitted concentration of the asthma drug salbutamol in his urine in a test at the Vuelta a España.
Froome denies exceeding the permitted dosage for salbutamol of 800mg per 12 hours, and must prove that the high concentration of the drug was not as a result of exceeding that dosage.
>>> Everything you need to know about Chris Froome's salbutamol case
"If the public knew how many cyclists have inhalers... It's huge, and sometimes it's also a bit in the head," Wellens said.
Speaking to Belgian broadcaster RTBF, Wellens said that he had decided against using an inhaler despite the advice of doctors, but said that many riders took a different stance.
http://www.youtube.com/watch?v=OQVwaVGJgzI
"Most people say 'chapeau', but there are always people who tell me that I'm stupid not to use the products. That's a shame," Wellens said.
"I think that the new generation does not use this type of products, these are products that are not prohibited but we cannot use them for everything. It is a grey area and it is unfortunate because these are products that really increase performance.
"Will I regret this stance? No, because I will be able to look at myself in the mirror. I have never taken anything, never used a TUE, never puffed an inhaler, and I have already had 16 beautiful victories!"
"The doctors told me that I could use an inhaler, without a certificate, but I'm against it, I do not want to improve my breathing by seven per cent that way, and I think that when we start to use an inhaler, afterwards we do not know how to live without. I refuse to be dependent on this stuff. I'm clearly against it, but a lot of people use it."
If he is to avoid a sanction, Froome must show there was some natural way for his high reading or an error in the test, and that he did not exceed the permitted dosage of 800mg per 12 hours. If he is unable to prove this, then he could face a ban and the loss of his Vuelta a España title.
Wellens, winner of the Tour of Guangxi, took the decision to pull out of the Tour de France last year rather than apply for a TUE to use a cortisone to treat his allergy. He left the race on stage 15, while Froome went on to win the overall.