'I'm feeling an awful lot of pressure' - cyclists react to England's Euro 2016 exit
Chris Froome and other cyclists react to England's 2-1 defeat to Iceland in the last-16 of the European Championships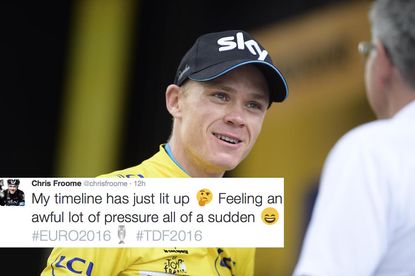 (Image credit: Yuzuru SUNADA)
There was another entry made to the 'English sporting failures' page on Wikipedia last night as the national football team went down 2-1 to lowly Iceland - a country that has more volcanos than professional footballers.
Of course, the best place to go when the chips are down is Twitter, where the backlash against the manager and players was in full force. Within the criticisms of the several levels of ineptitude shown on the pitch there was your usual slice of humour that can only be produced on Twitter.
Chris Froome felt the weight of the nation's expectations transfer firmly to his shoulders ahead of the Tour de France. But don't worry, Chris - we've still got Andy Murray to lose at Wimbledon before it's all on you...
Paralympic gold medallist Jody Cundy had a pretty decent reason to make Iceland his second team in the tournament.
Mark McNally makes a prescient point on football's reliance of blaming managers rather than the athletes who underperformed.
Dan Lloyd makes the obvious joke.
As does Lewis Oliva...
Russell Downing goes along the same lines.
And even the Kiwis are getting in on our misery.
Don't worry though, Wales are still in the tournament to keep British hopes alive, but playing Belgium on Friday there's a chance they could also be out of the tournament before the Tour de France starts.
Then the Brits take to two wheels in France for the big one - the one we actually have a great chance of winning. You're right, Chris, the pressure is truly on you now!
Thank you for reading 20 articles this month* Join now for unlimited access
Enjoy your first month for just £1 / $1 / €1
*Read 5 free articles per month without a subscription
Join now for unlimited access
Try first month for just £1 / $1 / €1