Lizzie Armitstead and Laura Trott model the newly launched Team GB Olympic kit
Team GB launches its new kit for the Rio 2016 Olympic Games, featuring a unique coat of arms and the Union Jack design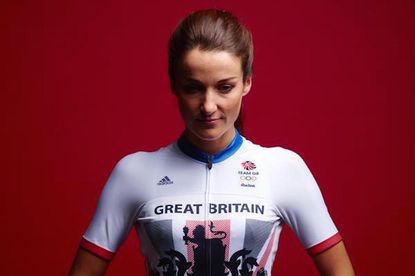 To mark 100 days to go until the Rio 2016 Olympic Games, Team GB launched its newly designed kit, with Lizzie Armitstead, Laura Trott and Becky James on hand to model the cycling attire.
Designed by Stella McCartney, the bold new Adidas kit features a new and unique British coat of arms over the top of the red, white and blue Union Jack and will be work by all Olympic and Paralympic athletes.
For Armitstead and the road cyclists, the kit will be predominantly white on the top half with dark blue shorts, while the track team will sport navy skinsuits.
Lizzie Armitstead describes her preparations for Rio 2016
>>> 100 days to go until Rio 2016 Olympic Games: Who will be riding for Team GB?
Team GB and Adidas claim that the new kits will be, on average, 10 per cent lighter than the ones used in London 2012, which apparently helps the athletes go "further and faster" - completing two of the three aspects of the Olympic motto.
The full team for the Rio Olympics will reportedly be announced by British Cycling in July.
Thank you for reading 20 articles this month* Join now for unlimited access
Enjoy your first month for just £1 / $1 / €1
*Read 5 free articles per month without a subscription
Join now for unlimited access
Try first month for just £1 / $1 / €1