Lizzie Deignan opens up about British Cycling: 'They let me down big time'
Former World Champion says "a lack of leadership" contributed to poor treatment of women within the team GB set-up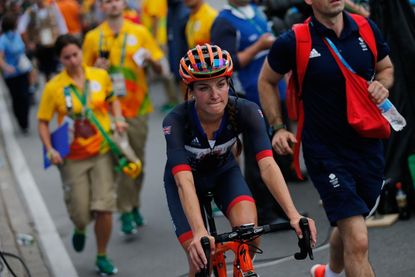 (Image credit: Yuzuru SUNADA)
Former World Champion Lizzie Deignan has spoken out about her experiences within cycling - alleging sexism within British Cycling, huge discrepancies in pay and humiliating experiences on pro teams.
Speaking to the Guardian ahead of the launch of her autobiography, 'Steadfast', she highlighted being woken near midnight to dance with a male cyclist on his birthday, and receiving a tenth of the prize money of the 2015 male World Champion as key offences.
Deignan, nee Armitstead, said that when she became World Champion in Richmond in 2015, British Cycling team manager Brian Stephens was not present because he had placed a priority on the men's junior team.
She told the Guardian: "I was really disappointed because I'd done everything right going into that competition and I just needed them to get it right for me on the day," she said. "And they didn't. There was a lack of leadership. They let me down big time."
Deignan also says in her book that women were forced to borrow helmets from the men, and told that they could be banned if they did not return them.
Discussing her time racing for trade teams, Deignan highlights an occasion – aged 19 and riding for the Cervelo team - where she says she was woken by a senior manager at 11.30pm and told to join a party in the bar for the male cyclists. The only woman there, she was "left with no choice" but to take part in a dance competition with the cyclist celebrating his birthday.
Deignan repeats the event in her book, stating: "It was only later, when I really thought about it, I thought, 'No, that wasn't a laugh.'"
Commenting on her winnings from the 2015 World Championships in Richmond, Deignan points out that she took home £2,000 - a fraction of the sum the male winner received, at £20,000. This inequality has now been addressed and the prize money has been equalised.
Deignan is one of a flurry of female cyclist to have come forward to allege sexism within cycling. Most notably, track cyclist Jess Varnish prompted an internal investigation when she claimed technical director Shane Sutton told her to "go and have a baby" when she was dropped from the British Cycling sprint team ahead of the Rio Olympics.
Former Olympic and World Champion Nicole Cooke made similar accusations when presenting her case to the British parliament's Culture, Media and Sport Committee inquiry into combating doping in sport, saying the sport was run "by men, for men" and that "very little was ever done to support female road riders during my career. At times odd riders would be supported for a period, while they were 'in favour' but mostly, that support was only ever transient".
Thank you for reading 20 articles this month* Join now for unlimited access
Enjoy your first month for just £1 / $1 / €1
*Read 5 free articles per month without a subscription
Join now for unlimited access
Try first month for just £1 / $1 / €1