Michael Hutchinson and Julia Shaw defend National 10-mile time trial titles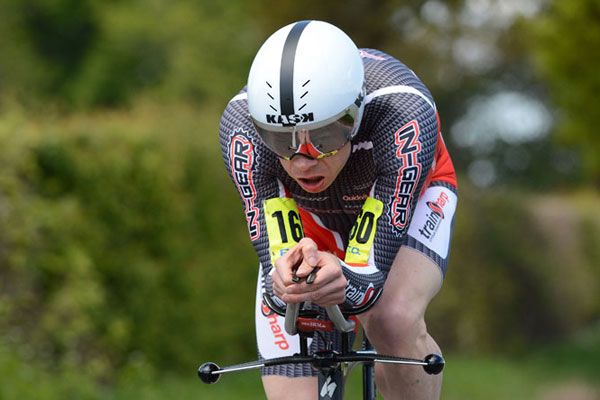 Full National 10 TT photo gallery by Andy Jones>>
Holders Michael Hutchinson and Julia Shaw successfully defended their 10-mile time trial titles in the opening RTTC championship of the season over a rural Hingham-based circuit in Norfolk.
Hutchinson (In-Gear Quickvit Trainsharp RT) produced a strong finish into a stiff headwind to turn a five-second halfway deficit into a winning margin of seven seconds over Matt Bottrill (www.drag2zero.com) to secure his tenth title at the distance as he came home in 19-20.
The bronze medal went to Hutchinson's team-mate Doug Dewey, 19-36, and with Peter Tadros, 20-36, backing up in eighth place, In-Gear claimed the team title by 11 seconds in a close scrap with Drag2zero whose three counters were all in the top seven finishers - Jeff Jones, 19-58 for fourth, and Mark Holton, 20-18 for seventh, supporting Bottrill.
Fifth place went to Olympic team pursuit gold medallist Steven Burke MBE (Node4 Giordana RT), 20-02, ahead of last year's junior champion Ryan Mullen (Team IG Sigma Sport), 20-16.
"I was pretty much happy with how it went from the off," said the delighted Hutchinson. "I had a time check from my coach around halfway and at that point I was down slightly, but I was never particularly worried.
"It was a hard ride, but it never got to the point where I felt I was in trouble.
"I won my first one in 2000 and I would have been pretty surprised at that point to think I would get to ten. The attitude changes a bit over the years, but it doesn't make it any less special to me."
Shaw (www.drag2zero.com), who celebrated her seventh 10-mile title, was always in control as she came home in 22-19 to win by 16 seconds from Rebecca Slack (Look Mum No Hands) with third place going to Hannah Barnes (MG-Maxifuel Pro Cycling), 22-56.
The junior title was won by BC Olympic Development Programme rider Chris Lawless, who clocked 20-49 to beat Luc Hall by ten seconds in a one-two for Kuota-GSG-Spinergy with last year's runner-up Scott Davies (Liverpool Mercury Dolan CC), 21-25, settling for third place this time.
To complete a good day for the Barnes family, Hannah's sister Alice (Scott Contessa Epic) clocked 23-42 to move up from third place last year and take the junior women's title ahead of Bryony Board (Glendene CC), 24-34, and Keira McVitty (Team Zenith-www.buzzcycles.co.uk), 24-51.
Julia Shaw (left) and Michael Hutchinson (right)



RESULTS

RTTC 10 mile National championships - men

1. Michael Hutchinson (In-Gear Quickvit Trainsharp) 19-20
2. Matthew Bottrill (www.drag2zero.com) 19-27
3. Douglas Dewey (In-Gear Quickvit Trainsharp) 19-36
4. Jeff Jones (www.drag2zero.com) 19-58
5. Steven Burke (Node4-Giordana) 20-02
6. Ryan Mullen (IG SIgma Sport) 20-16
7. Mark Holton (www.drag2zero.com) 20-18
8. Peter Tadros (In-Gear Quickvit Trainsharp) 20-36
9. Rob Pears (Bath CC) 20-38
10. Conall Yates (In-Gear Quickvit Trainsharp) 20-39
11. Russell Hampton (Team Raleigh) 20-42
12. Brett Harwood (Terry Wright Cycles) 20-45
13. Sebastian Ader (a3crg) 20-46
14. Nick English (AW Cycles) 20-46
15. Kieron Davies (Bynea CC) 20-47
16. James Perkins (Team Zenith) 20-49
17. Matt Sinclair (Lutterworth Cycle Centre) 20-49
18. Seth Kay (Team Race-Wheels.co.uk) 20-54
19. Pete Vincent (Twenty3c RT) 20-55
20. Justyn Cannon (RAF CA) 20-55


RTTC 10 mile National championships - women

1. Julia Shaw (www.drag2zero.com) 22-19
2. Rebecca Slack (Look Mum No Hands!) 22-35
3. Hannah Barnes (MG-Maxifuel Pro Cycling) 22-56
4. Hayley Simmonds (GBCycles.co.uk) 23-09
5. Anna Turvey (Tyneside Vagabonds CC) 23-16
6. Laura Massey (Abergavenny RC) 23-30
7. Rebecca Rimmington (Trainsharp RT) 23-35
8. Corrine Hall (Node4-Giordana) 23-41
9. Bronwen Ewing (Trainsharp RT) 23-49
10. Gillian Pears (Bath CC) 23-52
11. Racheal Elliott (Newbury RC) 23-52
12. Louise Mason (Velo Refined Aerosmiths) 23-54
13. Tamina Oliver (Team CTC) 23-57
14. Helen Mckay (Team CTC) 24-04
15. Karina Bowie (GVC Edmond de Rothschild) 24-08
16. Jessica Bacon (Clifton CC York) 24-16
17. Emma Craddock (South Downs Bikes) 24-21
18. Suzanne Robinson (VC 10) 24-23
19. Mary Bower (Chelmer CC) 24-26
20. Elisabeth Brama (Brighton Mitre) 24-27
RTTC 10 mile National championships - junior boys

1. Chris Lawless (Kuota-GSG-Spinergy) 20-49
2. Luc Hall (Kuota-GSG-Spinergy) 20-59
3. Scott Davies (Liverpool Mercury Dolan CC) 21-25
4. Joshua Knights (Champion Systems-Maxgear RT) 21-32
5. Kristian Woolf (Prestige VC) 21-34
6. Christopher Fennell (PMR @Toachim House) 21-42
7. Ben Hetherington (Dirt Wheels Cycles) 21-44
8. Luke Hattersley (St Ives CC) 21-54
9. Jake Womersley (Team Sportscover) 22-00
10. Gerallt Allen (Marsh Tracks Racing Team) 22-07
RTTC 10 mile National championships - junior girls

1. Alice Barnes (Scott Contessa Epic RT) 23-42
2. Bryony Board (Glendene CC) 24-34
3. Keira Mcvitty (Team Zenith) 24-51


Related links
National 10-mile time trial 2013 photo gallery by Andy Jones