Hero's welcome for history-making Manxman Peter Kennaugh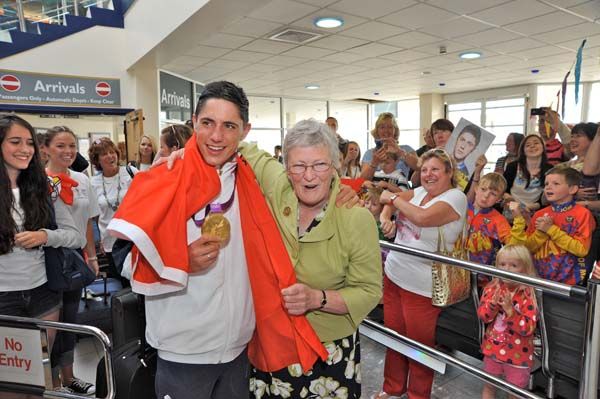 Peter Kennaugh received a hero's welcome when he arrived back home in the Isle of Man the morning after he rode to victory in the team pursuit.
Around 100 fans gave him a huge cheer as he walked through the arrivals area of the Island's airport holding his gold medal. He is the first Manx-born Olympic champion since Sidney Swann who was part of Great Britain's rowing eights team at the 1912 Games in Stockholm.
Among the welcoming party at the airport was Clare Christian, President of Tynwald - the Isle of Man's parliament.
Kennaugh, 23, joined in as the crowd sang an impromptu rendition of the Island's national anthem and then gave an emotional speech in which he expressed his thanks for the reception.
He said: "This means everything to me, to have so many people welcoming me home shows what a close-knit community we have in the Isle of Man."
He then held his gold medal aloft and said 'this is for you guys' which prompted a huge cheer from the crowd that included fans of all ages. He spent an hour signing autographs and having his photo taken and passed his gold medal to fans - much to the delight of the many children who had turned up to meet their hero.
Kennaugh also revealed for the first time that an injury which forced him to abandon the Giro d'Italia almost destroyed his Olympic dreams. A niggling injury to his left hip had been causing him problems since October last year, but it worsened during the Giro and severe pain forced him to abandon the race just a few kilometres into stage 17.
With the first round of the Olympic team pursuit just 10 weeks away, Kennaugh feared that the injury could prevent him riding at the Games.
"I was at the side of the road in tears watching the peloton go by," he said. "It was probably one of the the lowest points of my career."
Kennaugh then had weeks of intensive physiotherapy and tried to spend as much time on the turbo trainer the injury would allow. While the rest of the team pursuit squad trained on the track, Kennaugh did turbo trainer sessions in the track centre as it was too painful for him to ride out of the saddle.
The injury finally started to settle down four or five weeks before the Games at a training camp in Majorca.
Kennaugh said he was grateful for the support of his family, physios and coaches who never lost faith in his ability to recover in time for London 2012. But he said that the injury meant that he was not in peak condition at the Games, and with Geraint Thomas also suffering with a stomach bug for the week before the team pursuit, Kennaugh believes that the gold medal quartet could have broken the 3min 50sec barrier had he and Thomas not been hit by injury and illness.




















Peter
Kennaugh is draped in the Manx flag by Clare Christian, President of Tynwald -
the Isle of Man's parliament
Fans hold up a 'Golden Boy' poster as Peter Kennaugh arrives at Isle of Man Airport
Peter Kennaugh signs autographs for young fans
Fans show their support for Isle of Man cycling hero Peter Kennaugh
London 2012 team pursuit gold medallist Peter Kennaugh draped in the Manx flag as he arrives at Isle of Man Airport
London 2012: Latest news
Video: Hoy and Pendleton bow out, but new talent coming through
Sir Chris Hoy looking good as British cyclists look to end with a flourish
GB doing something right says O'Shea
Comment: Hindes's purposeful crash - fair or foul?
New format for team pursuit explained
Pendleton and Varnish out of team sprint
'Hot pants' key to Pendleton and Hoy sprint
Britain's sprinters looking to continue GB medal haul
Wiggins: Tour was perfect Olympic TT preparation
Olympic time trial round-up
Pendleton warms up for London 2012
Cancellara in, Evans out of time trial
CW eyewitness: Remember the name
Cavendish finds solace in commitment of his team mates
London 2012: Team info
Men's road race start list
Women's road race start list
Men's time trial start list
Women's time trial start list
Team GB rider profiles
Great Britain track team confirmed
Bronzini leads Italian Olympic cycling team
British Olympic men's road race team announced
Armitstead and Cooke lead GB women's road cycling team
London 2012: Event guides
Olympic Games men's time trial: Who will win?
Olympic Games women's time trial: Who will win?
Olympic time trial routes announced
Olympic Games women's road race: Who will win?
Olympic Games men's road race: Who will win?
Download detailed Olympic road race route map
London 2012 cycling schedule
London 2012: Reports
Reade and Phillips kicks off Olympic BMX campaigns
Sir Chris Hoy wins sixth Olympic gold
Trott stunned at double Olympic gold
Pendleton ends career on a high
Tremendous Trott eliminates the rest in Olympic omnium
Kenny stuns Bauge in sprint to win second gold
Bronze for Clancy while Pendleton marches on
Pendleton sets new Olympic record to qualify ahead of Meares
Trott, King and Rowsell keep gold medals coming
Kenny lights up a stuttering men's sprint competition
Track day two: Pendleton and team pursuiters deliver more gold
Track cycling day one: Hoy leads team sprinters to gold
Wiggins wins gold in men's time trial, bronze for Froome
Armstrong defends Olympic title in women's time trial
Cycling events medal table
Women's road race: Armitstead wins silver as Vos strikes gold
Men's road race: Vinokourov wins as Cavendish misses out
London 2012: Photos
Track day six (evening) by Andy Jones
Track day six by Phil O'Connor
Track day six by Graham Watson
Track day five by Andy Jones
Track day five by Graham Watson
Track day four evening session by Andy Jones
Track day four evening session by Graham Watson
Track day four morning session by Andy Jones
Track day four morning session by Phil O'Connor
Track day three evening session by Andy Jones
Track day three evening session by Phil O'Connor
Track day three morning session by Andy Jones
Track day two by Phil O'Connor
Track day two by Graham Watson
Track day one by Andy Jones
Track day one by Phil O'Connor
Track day one by Graham Watson
Men's time trial by Graham Watson
Women's time trial by Graham Watson
Pendleton track training
Women's road race by Andy Jones
Women's road race by Graham Watson
Men's road race by Andy Jones
Men's road race by Phil O'Connor
Men's road race by Graham Watson
Team GB road race training on Box Hill (July 26)
London 2012: Podcasts
Cycling Weekly podcasts on Soundcloud
London 2012: TV schedule
London 2012 BBC TV cycling coverage schedule
London 2012 Eurosport cycling coverage schedule
Related links
CW's dummies' guide to track racing
World's best BMXers in London 2012 test event
Olympic road race test event: Report card
Cavendish wins London-Surrey Cycle Classic
London-Surrey Cycle Classic photo gallery
Olympic road race route officially revealed
London 2012 tickets on sale from March