Laura Trott extends omnium lead with one event to go, as Kenny qualifies for keirin final
Trott won the flying lap competition to continue her dominance over the Olympic omnium while James and Kenny both made their finals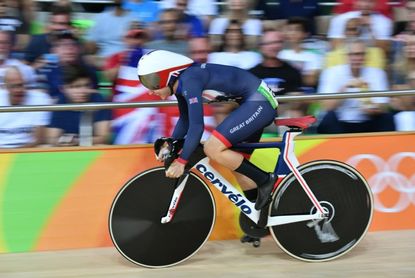 (Image credit: Watson)
Laura Trott enters the final event of the omnium in as good a position as she could hope to be, after extending her lead in the penultimate event, the flying lap.
Only the points race remains in the women's omnium, and defending champion Trott heads into the race with a tally of 196 points to second place Jolien D'Hoore's 172.
>>> Mark Cavendish admits error in Olympic omnium points race crash
Trott put in a time of 13.708 in the flying lap competition to beat Annette Edmondson's (Aus) time of 13.878. Trott has now won three of the five events so far with second places in remaining two.
D'Hoore lost further ground with a seventh place finish in the flying lap, but remains in second place on the same points as the USA's Sarah Hammer, who sits in third place.
The women's points race is scheduled for 21-05 UK time.
Results
Women's omnium: Flying lap
1. Laura Trott (GBr) 13.708
2. Annette Edmondson (Aus) 13.878
3. Laurie Berthon (Fra) 13.903
4. Kirsten Wild (Ned) 14.023
5. Sarah Hammer (USA) 14.081
6. Allison Beveridge (Can) 14.140
7. Jolien D'Hoore (Bel) 14.195
8. Daria Pikulik (Pol) 14.409
9. Marlies Mejias (Cub) 14.441
10. Anna Knauer (Ger) 14.447
Overall standings after five events
1. Laura Trott (GBR) 196
2. Jolien d'Hoore (BEL) 172
3. Sarah Hammer (USA) 170
4. Annette Edmondson (Aus) 168
5. Laurie Berthon (FRA) 140
6. Kirsten Wild (NED) 140
7. Lauren Ellis (NZL) 116
8. Tatsiana Sharakova (BLR) 114
9. Amalie Dideriksen (DEN) 104
10. Allison Beveridge (Can) 104
James qualifies as Marchant drops out
Becky James continued her remarkable form as she beat Elis Ligtlee (Ned) 2-0 in the women's sprint to reach the gold medal final. The Welshwoman rode away easily from Ligtlee, who couldn't match her pace in either of the two sprint races.
James won't be joined by fellow Brit Katy Marchant however, after she lost 2-0 to Germany's Kristina Vogel. Marchant will now ride in the bronze medal races against Ligtlee.
The first of the women's sprint finals is scheduled for 21-44 UK time.
Kenny into keirin final
Jason Kenny stormed ahead of the field in the first of the kierin semi-finals and rode over a bike length ahead of the field across the line.
>>> Is Jason Kenny Britain's most underrated sportsman?
There was no-one who could match the Briton's speed and he now enters the final of the keirin, where he could win his third gold medal of the Games and equal Chris Hoy's record of six.
Mathijs Buchli (Ned) and Azizulhasni Awang (Mas) also qualified from Kenny's heat.
Men's Keirin Second Round Heat One
1. Jason Kenny (GBr) 10.163 Q
2. Matthijs Bucli (Ned) +0.261 Q
3. Azizulhasni Awang (Mas) +0.271 Q
4. Matthew Glaetzer (Aus) +0.325
5. Christos Volikasis (Gre) +0.482
6. Michael D'Almeida (Fra) +1.088
Men's Keirin Second Round Heat Two
1. Joachim Eilers (Ger) 10.239 Q
2. Damian Zielinski (Pol) +0.071 Q
3. Fabian Puerta (Col) +0.073 Q
4. Krysztof Maksel +0.130
5. Francois Pervis (Fra) +0.137
6. Sam Webster (NZL) +1.524
Thank you for reading 20 articles this month* Join now for unlimited access
Enjoy your first month for just £1 / $1 / €1
*Read 5 free articles per month without a subscription
Join now for unlimited access
Try first month for just £1 / $1 / €1