Laura Trott and Jason Kenny, Britain's golden couple, bring the house down in Rio
Britain's most successful male and female Olympians round off a stunning Games for Great Britain's cyclists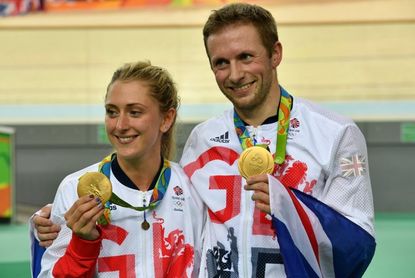 (Image credit: Watson)
In the end it was only fitting that the last two gold medals of Great Britain's near faultless campaign in the velodrome at the Rio Olympics went to Laura Trott and Jason Kenny.
With Trott cementing her fourth gold with a dominant ride in the final round of the omnium, the points race, her fiancé Kenny won his third gold of the Games – and sixth of his career – in a keirin final of unrivalled drama to round off the track competition in Brazil.
Kenny's lunge to the line after the keirin had twice been neutralized brought the Olympic velodrome to its feet. His kiss, shared with a tearful Trott on the home straight, brought it to tears.
The golden couple now have 10 gold medals between them, five of them coming at these Games. If the Trott-Kenny household were a nation, on Tuesday evening it sat 13th in the medal table, just above Spain.
Trott is again the most successful British female Olympian ever (dressage rider Charlotte Dujardin drew level on two gold medals for just 24 hours on Monday and Tuesday before Trott's omnium victory).
Kenny is now the joint most successful British Olympian of all time, a position shared with Sir Chris Hoy. The pair have blown away the benchmark of British Olympic achievement, much like the British track team has blown away all of its rivals at this year's Games.
"It just seems mad to me honestly," Trott said when asked whether she had considered a damehood. "Things like that come with winning gold medals, I get that, but for me I just feel like that eight year old that started cycling because she absolutely loved it."
If any two athletes at these Games sum up Britain's sheer dominance on the boards, it is these two. Kenny retains his record of being unbeaten by anyone in the Olympic Games except Chris Hoy. In fact he has only been beaten once in Rio, in the first match up in his sprint semi-final by the Russian Denis Dmitriev. He won the next two rounds.
Trott, undefeated in the women's team pursuit, was either first or second in all of her omnium events and by half way through the final points race, her closest rivals Sarah Hammer (USA) and Jolien D'Hoore (Belgium) were already racing for silver.
After their success the two explained how they help each other in their golden partnership.
"Jason puts up with so much rubbish on a daily basis from me and we go through such highs and lows," Trott said. "And because he does go through the same things as I do its great, he knows how to deal with me, he knows what to say because he's been through it himself. I think that has been such a massive help to me, he knows me inside out, he knows what to say and when to say it."
"I think the thing that we understand most of all is that there are times when you have to step back and let them have a rant," Kenny said. "Certainly Laura does a good rant.
"The thing about being together for me is that we get to share these moments together. I got to see my parents there for a few minutes, and that's what most people are confined to, a quick hug and then it's ceremony and off to anti-doping. It's nice for us to be able to share these special moments."
At 24 and 28 respectively, Trott and Kenny could be sharing their special Olympic moments for years to come.
Thank you for reading 20 articles this month* Join now for unlimited access
Enjoy your first month for just £1 / $1 / €1
*Read 5 free articles per month without a subscription
Join now for unlimited access
Try first month for just £1 / $1 / €1