Reade and Phillips kick off Olympic BMX campaigns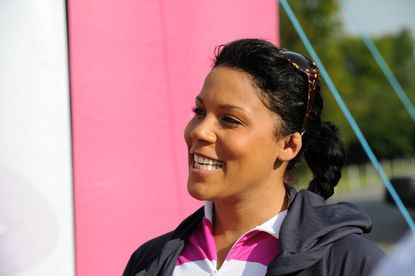 British London 2012 Olympic Games BMX hopes Shanaze Reade and Liam Phillips put in solid rides to seed fifth and 12th respectively on Wednesday ahead of this week's final rounds.
Caroline Buchanan (Australia) put in a flawless run to seed highest in the women's event ahead of Sarah Walker of New Zealand and Mariana Pajon of Colombia.
Four-time BMX world champion Reade won the Olympic test event on the same track last August, and is hoping to repeat the success to claim gold. She missed out on a medal at the Beijing Olympics in 2008 due to a crash in the final.
Raymon van der Biezen (Netherlands) clocked the fastest time in the men's seeding run, with Joris Daudet (France) in second and Twan van Gendt (Netherlands) third fastest. Phillip's 12th-placed run was 0.940 of a second slower than van der Biezen's mark.
"After my last performance at the Worlds and my performance in Norway at the World Cup I did, I set my bar pretty high," said Phillips of his Olympic hopes.
"To come here, deal with the additional crowd and everything that goes with the Olympics. It's a good start, but I'm looking forward to tomorrow."
Phillips fractured his collarbone earlier this year as a result of a crash during the BMX World Championships in Birmingham in May. Rather than let the injury hinder his training, Phillips seems to have come to London in good form.
"The shoulder is no issue," said the 23-year-old from Somerset. "I've got a great block of training done. I'm in good shape. The race to the first turn, that's the most important part and that part of my lap's better than it ever has been, even at the World Champs.
"It's pretty scary to come off the back of an injury and be going faster than you were at the World Champs 10 weeks ago.
"A lot of people around me within British Cycling, other coaches from other disciplines, were saying that they've seen a lot in the past where athletes were forced to take a break and get back into things and they seemed to have a great bounce back from it," he concluded.
The seeding runs are used to decide who will face who in the next rounds and consist of a solo time trial around the London 2012 BMX track. The men's track is 450 metres, and the women's slightly shorter at 440 metres.
The 32 male competitors go on to quarter finals on Thursday before the semi-finals and finals on Friday, whilst the 16 women go straight into Friday's semi-finals and finals.
Related links
Liam Phillips: Rider profile
Shanaze Reade: Rider profile
Thank you for reading 5 articles this month* Join now for unlimited access
Enjoy your first month for just £1 / $1 / €1
*Read 5 free articles per month without a subscription
Join now for unlimited access
Try first month for just £1 / $1 / €1