'Pride' drove Sky's Jon Dibben to finish Paris-Roubaix despite missing time cut
The British Roubaix debutant finished 47 minutes down on winner Greg Van Avermaet, but he says he was determined to reach the velodrome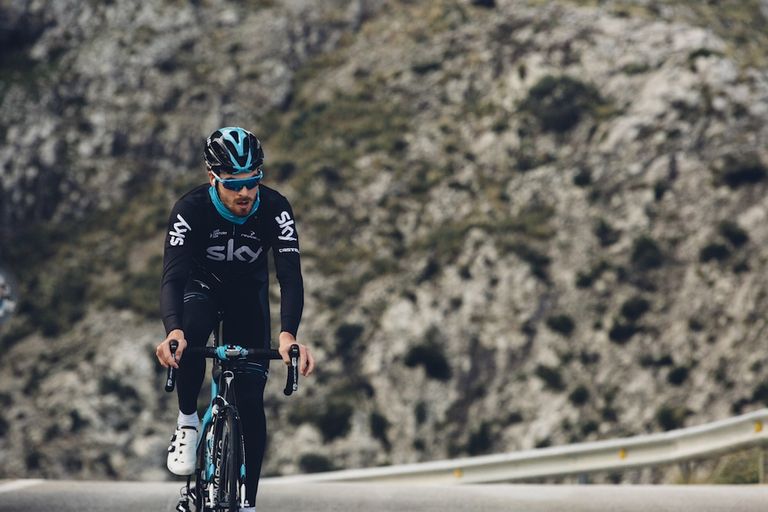 (Image credit: Daniel Gould)
It was personal pride that drove Team Sky Paris-Roubaix debutant Jon Dibben to keep pedalling to make it to the Roubaix velodrome on Sunday as he finished dead last.
>>> Watch: Cobbles, crashes, and general chaos captured by on-bike cameras at Paris-Roubaix
The stands around Roubaix velodrome were almost empty as Dibben, his beard and face caked in a thick layer of brown dust, made his way into the velodrome and crossed the line 47 minutes down on race winner Greg Van Avermaet.
He casually rolled around the banking before stopping next to one of the team's soigneurs.
Asked by Cycling Weekly how he felt to finish his first Paris-Roubaix he said: "Well I don't think I finished, I think I missed the time cut by a mile.
"I really wanted to get here today. I was in a decent little group with [Sky rider Owain] Doull but then I punctured on sector nine, and obviously when you're out the back of the race like that there's nothing there.
"So I stood around for ages until the broom wagon came up and I swapped a wheel with him."
He added that the broom wagon followed behind him because he was "hacking slow."
Was it just personal pride that kept the 23-year-old Brit pedalling on when he was so far from the front of the race?
"Exactly that. I have done Tour of Flanders and Ghent-Wevelgem and didn't finish either of them, I just did my job and then went into the team car.
"Obviously I didn't make the time cut as such here, but either way I was going to ride here today and not sit in that broom wagon."
Dibben had a dramatic day out in dusty northern France in what proved to be the fastest edition of Paris-Roubaix in its 121-year history.
The first two hours of the race, which features few cobbles, were ridden at an average speed of 50.5kph.
Dibben said: "The break never went and that was pretty much my job so I just got the boys in position for the cobbles. Then Luke punctured early, Ian punctured early and then there was a crash on a bridge after five or six sectors and Luke was stuck, Doull went down in it and I broke my wheel in."
He went on to spend much of the rest of the day toiling away with a group off the back of the race before the fateful puncture that left him just ahead of the broom wagon.
Still his experience had not put him off the Hell of the North and he was visibly in good spirits.
"I'm keen to come back next year, I presume we'll have a very similar group here next year, me Doull and Lukas [Wisniowski] it's the first time doing all these Classics."