Rafal Majka denies Lucca investigation links & alleged drug use
The Pole released a strongly worded denial on his Facebook page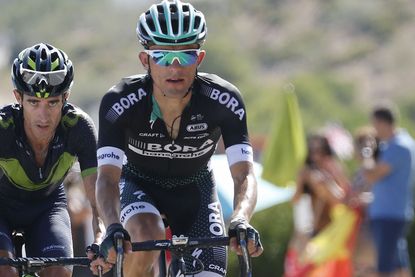 (Image credit: Yuzuru SUNADA)
Rafal Majka (Bora-Hansgrohe) says that he has nothing to with the Team Altopack investigation in Lucca, Italy, where wiretaps allegedly revealed a sports director saying he took drugs as an amateur.
The sting last week in central Italy's Tuscany region led to six arrested and 17 placed under investigation. Team Altopack's top brass and extended members were allegedly caught helping their under 23 riders dope with EPO, human growth hormones and opiate-based painkillers.
The prosecutor's work followed the death of 21-year-old Linas Rumsas and the four-year suspension of his bother Raimondas Rumsas Junior, 23, for using growth hormones. Police used on wiretaps and video surveillance in relation to team managers and directors, including Andrea Del Nista who was arrested.
Majka rode for Team Petroli Firenze, which Elso Frediani directed, in Tuscany. In 2011, the 28-year-old Polesigned a professional contract with Team Saxo Bank, where he went on to win three stages and the mountains competition twice in the Tour de France. Since 2017, Majka rode for Germany's WorldTour Bora-Hansgrohe team.
Frediani, now a sports director with Altopack, was arrested in the raid on Thursday.
"Referring to the media reports in which the word "doping" appears close to my name, I declare that I do not agree to such slanders as it may expose me to the loss of trust of my friends, fans and directly affect my good name," Majka wrote on Facebook.
"It is a direct attack on my past successes, which I have achieved only by hard work, sacrifices and frequent separation from my family.
"I am proud to represent my cycling team and my country at international events and I cannot allow my name to be combined with any unfair activities which I have nothing to do with. I have never been a member of the Altopack team in respect of which anti-doping rule violation is pending now."
Team Bora-Hansgrohe did not respond when asked if it was investigating the Lucca documents.
Thank you for reading 20 articles this month* Join now for unlimited access
Enjoy your first month for just £1 / $1 / €1
*Read 5 free articles per month without a subscription
Join now for unlimited access
Try first month for just £1 / $1 / €1