Team Sky's 'unstoppable' new young signing can win top level races 'within three years'
Team Sky have signed Russian climber and general classification rider Pavel Sivakov for three years, and his current sports director believes he can be one of the world's best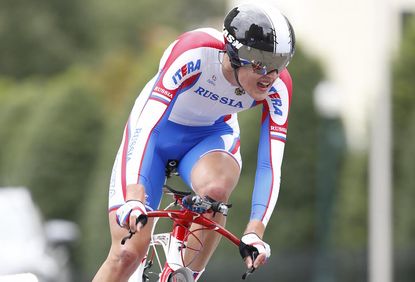 (Image credit: Yuzuru SUNADA)
Pavel Sivakov, the Russian 20-year-old who has signed a three year contract to race for Team Sky from 2018, has been heralded as a future world class stage racer by his current sports director.
Klaas Lodewyck has worked with Sivakov for the previous two seasons at BMC Development team, where the rider has excelled in U23 stage races, this year winning the Baby Giro, Ronde de l'Isard and Giro della Valle d'Aosta Mont Blanc. He also took a stage win in the Tour de l'Avenir.
>>> Team Sky sign Baby Giro winner Pavel Sivakov for 2018
His consistent performances made him the most sought after U23 rider on the planet and it was Sky who managed to persuade the Russian - who has lived in the south of France since he was six months old - to join them.
"He is the best 20-year-old I have ever worked with," Lodewyck told Cycling Weekly. "Already we can say that within three years he can be winning stage races.
"Maybe not the Tour de France, the Giro or the Vuelta, but races like the Dauphiné or the Tour de Suisse. He will definitely be as good [as people expect].
"Last year he was successful even if he wasn't winning. He struggled a bit at the beginning of this year but he came to Belgium with me for two days and we created a plan. When he got on track he became unstoppable.
How should you ride a long climb?
"In training, his efforts in the first hour were brilliant, and five or six hours into the ride, he was still able to maintain that effort and keep the watts even. That's something you don't see with many riders, only riders like Greg Van Avermaet.
"If he can do that already, then he has a big future. He is so determined to train. Even when he is tired, he will go out and do his ride. If he has to do a 10 minute block, he will do 10 minutes and one second just because everything has to be perfect."
Grand Tour leadership in the future is assumed, and Lodewyck believes that Sivakov is joining the right team to satisfy those ambitions. "To win a Grand Tour, you need more than just your personal capacity," he assessed.
"You need a team around you and a team that believes in you. Sky is a good team for him because they have people everywhere and they are on top of everything. I strongly believe that he will succeed.
>>> Cycling transfers 2018: All the ins and outs from the WorldTour
"We never practised his time trial much, but he would always finish in the top-five or top-10. A Grand Tour time trial tends to be 35-40km long. He can win a long distance time trial as he is capable of pushing watts for a very long time."
Lodewyck described Sivakov as a laid-back person off the bike, a quiet figure in a social occasion. But when he's racing, he transforms into a winner.
"This year in the Baby Giro, I said in the team meeting that we had had the lead for so many days and it didn't matter if we lost it because, for me, it had already been a successful week. If we won, that would be super nice, but the main goal was to do our best," Lodewyck said.
"Pavel stood up immediately and said that today no one would drop him. No one. He was going to win. If you can say that in a team meeting, then everyone else is going looking up at you and going to work 120 per cent to be successful for you.
"You can learn to be like that, but the best riders like [Philippe] Gilbert have that from the beginning. The mentality to win and be successful can motivate a team and I saw that with Pavel at the Giro. He has lived his whole life in France, but he still has that Russian mentality of a fighter."
Thank you for reading 5 articles this month* Join now for unlimited access
Enjoy your first month for just £1 / $1 / €1
*Read 5 free articles per month without a subscription
Join now for unlimited access
Try first month for just £1 / $1 / €1