The best 'Morning Ride' of all time? Silvan Dillier shares his Paris-Roubaix ride to Strava
Swiss champion uploads his Paris-Roubaix second place to Strava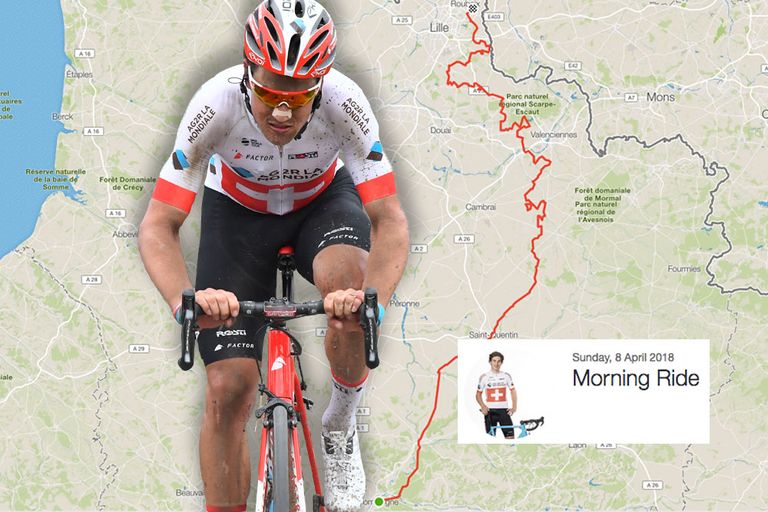 It's fair to say that no one - not even the man himself - expected Silvan Dillier to be standing on the second step of the podium at Paris-Roubaix having just been out-sprinted by world champion Peter Sagan in the Roubaix velodrome.
And now, thanks to the magic of Strava, we can get something of an insight into the Swiss champion's amazing ride and a day that he'll remember for the rest of his life.
Dillier earned his place leading the race into the Roubaix velodrome by making it into the early break of the day, which took more than 40km to go clear.
>>> 'I didn't even think I was going to make the team': Silvan Dillier content despite missing out at Paris-Roubaix
Unfortunately Dillier's Strava file doesn't include his heart rate or power data, but the speed numbers give some idea of the effort needed to make it into the break, with Dillier hitting 60kmh as he launched his initial counter-attack and his top speed of the race of 71.3kmh shortly after.
From the point of his attack to the first pavé section at Troisvilles, Dillier and his fellow breakaway companions rode at an average speed of 46kmh, before the cobbles started to bite as they tackled the rough roads at speeds of around 35kmh.
Watch: Paris-Roubaix 2018 highlights
Dillier covered the infamous Trouée d'Arenberg in a time of 3-47, 13 seconds slower than Mike Teunissen who attacked out of the bunch behind, giving an average speed of 35.7kmh for the slightly uphill sector.
With 50km remaining, Dillier and his remaining breakaway companions were caught by Sagan, with the influence of the world champion being obvious as Dillier averaged 43.4kmh for rest of the race compared to 40kmh for the previous 50km.
>>> 'I got to the velodrome and the gates were closed': The extraordinary story of the final finisher from Paris-Roubaix
Sagan's influence also saw Dillier pick up the KOM on the final meaningful cobbled sector at Hem where the Slovak put in a big effort in an unsuccessful attempt to ride Dillier off his wheel.
The two then cooperated well to the velodrome in Roubaix, where Dillier held a steady 40kmh around the top of the track with Sagan off his wheel, eventually accelerating up to a top speed of nearly 63kmh an hour in as he tried in vain to close in on Sagan and was forced to settle for second place.
In total, the 257km (plus nine kilometre neutralised zone) took Dillier 6-15-41, meaning an average speed of more than 42.5kmh for an incredible ride and result.