Tom Boonen: 'I'm not emotional, but I think that's going to be different come Flanders'
The Classics great says he's trying to stay focused on racing until his career culminates at next week's Paris-Roubaix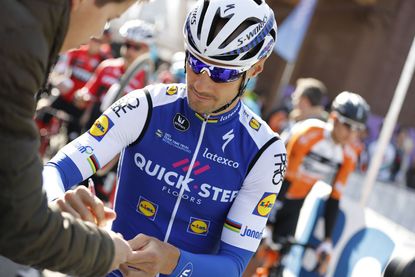 (Image credit: Yuzuru Sunada)
Tom Boonen (Quick-Step Floors) says that he is "not emotional" ahead of the his last cobbled Monuments, but that may change Sunday morning when the Tour of Flanders starts near his hometown in Antwerp.
The Belgian drove from his home in Mol in his black Porsche, spoke for 90 minutes and sped away.
>>> Quick-Step Floors name outrageously strong team for Tour of Flanders
"For the moment, not yet [emotional], I think maybe Sunday at the start it'll be a little bit different, also because we start in Antwerp, which is my home province," Boonen explained after the press conference on a boat docked in the port.
"I expect there will be more people from my region, as well. In the end, I try to stay focused until Paris-Roubaix, and it's working out, I don't have the mentality to cry every time at the finish line because it's my last time. This life stops at the end of Roubaix, then another one starts."
Boonen, 36, won races around the world, including the World Championship title and stages in the Tour de France. He counts three Tour of Flanders and four Paris-Roubaix titles; if he wins again in either monument he will set the record for the number of wins.
"I'm aware of everything that's going on, I read the newspaper every once and a while. It's like it's all happening beside me, sometimes you just notice something. With Scheldeprijs on Wednesday in my home town, that's going to be difficult to focus with the big circus at the start," he added.
"I know everyone is trying to get all the details of the career I had, but I'm not really aware of all the things that are going on because I'm trying to focus on Paris-Roubaix. Maybe it'll come after that, but we'll see. I'm not emotional about it now, but we'll see."
Sports director Wilfried Peeters also comes from Mol. He stood near the back of the boat and joked that he was the star from Mol before Boonen began his career in 2002.
"When Tom turned professional, we had Museeuw and then Tom came along," Peeters said. "We didn't know Tom was going to take his place. Maybe in two years, someone will become stronger and take that place. But he needs to be the package, not just the physically strong, but mentally.
"I'm not going to speak too much on [his retirement], sometimes it's too much about Tom Boonen. I don't want to speak too much about it until Roubaix ends."
Boonen and the team explained that he has better chances for Paris-Roubaix next Sunday, the day he will retire. Given the multiple options that the Belgian WorldTour team has within its Classics squad, though, tactics may allow Boonen to ride away with a fourth Flanders title this Sunday.
"I'm going into both of them to get a result, but the key factor is to get the win with the team," Boonen said. "If it's me who 'has to do it' then I will, but it depends on how the race goes.
"The last few races it was always me waiting for the moment if it comes back to a sprint. In Ghent-Wevelgem I was leading out Gaviria, but he wasn't where he was supposed to be, but in the other [races] it was someone else in the front with me waiting behind. We'll see, maybe it's the same way on Sunday, or maybe not because you can never tell in Flanders."
Thank you for reading 20 articles this month* Join now for unlimited access
Enjoy your first month for just £1 / $1 / €1
*Read 5 free articles per month without a subscription
Join now for unlimited access
Try first month for just £1 / $1 / €1