Bradley Wiggins Tour selection - for and against
Would you pick Bradley Wiggins for your Tour de France team? Sky has to choose between three days of publicity and three weeks of performance.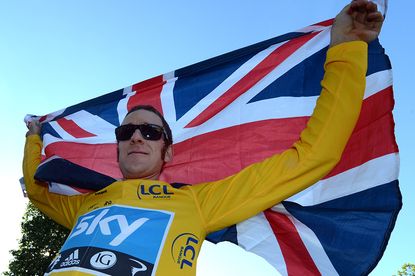 (Image credit: Graham Watson)
Bradley Wiggins's omission from Sky's Tour de France team is sensational in light of the fact the race starts in the UK. But then what role would he play in a team lead by a rider that he doesn't get on with, and has no loyalty towards?
We weigh up the reasons for and against taking Wiggo to the 2014 Tour de France.
FOR
Strength: Wiggins is one of the strongest riders in the peloton. Having that sort of firepower in the team is essential, especially in light of how many of Sky's riders fell off the radar last year when the race hit the Pyrenees.
UK start: Not only is he Britain's most decorated cyclist, he's also the most popular. His presence for the Grand Depart in Yorkshire will be an enormous draw for fans and his sponsor whose reason for putting money in to cycling was to get bums on saddles. Wiggins does that.
Local route: Wiggins lives in Eccleston, the route of stage two goes through Hebden Bridge, approximately 37 miles from his front door. It will never go so close during his career.
Distraction: With the media swirling around Wiggins in the opening stages, the pressure will be off Froome - at least for a short while. Wiggins is unrivalled in interviews. He can always be relied upon to come up with something memorable, though not necessarily always appropriate.
Nationality: Sky is a British team, Wiggins is one Britain's greatest riders, the Tour is starting in Britain.
Work for others: One of the most iconic images from the 2012 Tour was that of Wiggins in yellow leading Mark Cavendish in the world champs jersey on to the Champs Elysees for the sprint. Wiggins can and has worked for others.
AGAINST
Frosty: Wiggins and Froome do not get on. While it is not necessarily a prerequisite that all riders are mates, a frosty atmosphere on the team bus for three weeks wouldn't help.
Commitment: In light of the fact the two don't get on, would Wiggins put 100 per cent effort in to working for Froome for three weeks? It's hard, if not impossible, to be motivated to put yourself on the line for someone you don't particularly like. Especially as he's now got one eye on the track in Glasgow.
Mountains: Wiggins looked good in California, but wasn't up against any pure climbers. With a fair amount of track work under his belt in recent months Wiggins's climbing is not good enough for him to be a mountain domestique at the Tour. Therefore his help against the likes of Contador would be limited. That would leave him doing the real donkey work for Sky in the first 100km of the stages, for which a rider like Vasil Kiryienka would be better.
What's the point? If Wiggins was going to the Tour just to fulfill a domestique role on the flat when the TV cameras aren't watching, what is the point? It doesn't further his career or create any interest.
Three weeks not three days. As good as the UK grand depart will be, it is only three days of a three week race. Wiggins's non appearance in Yorkshire will be forgotten by the time the race hits the mountains.
Work for others: Wiggins rarely rides for others. In 2009 with Garmin he had committed to riding for Tyler Farrar in the final Tour sprint. When it came to the final kilometres he was no where to be seen. Rod Ellingworth said in his biography that they didn't know whether or not Wiggins was going to ride for Cavendish at the 2011 world championships. In the end he did, but Wiggins doesn't make a habit of working for others.
Bradley Wiggins says in BBC interview that he will not be selected for Team Sky's Tour de France team this
Thank you for reading 5 articles this month* Join now for unlimited access
Enjoy your first month for just £1 / $1 / €1
*Read 5 free articles per month without a subscription
Join now for unlimited access
Try first month for just £1 / $1 / €1