Cavendish surprises with Tour stage win and press conference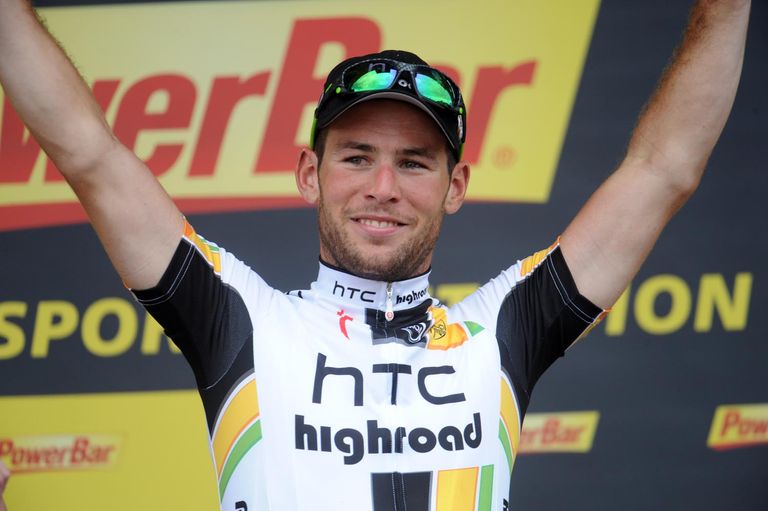 Mark Cavendish sprinted to win number 16 in the Tour de France today in Cap Fréhel. It was a surprise victory for some, who thought he'd fail on the windy, twisty and undulating finish to hold off the likes of Philippe Gilbert.
The surprises didn't stop there. Cavendish continued his strong performance in a post-stage press conference.
Cavendish answered the usual questions about his win and about how his HTC-Highroad team-mates helped. He also gave some colourful responses to other questions that dug deeper. The following is a transcript...
Q: Where does this win rank?
Mark Cavendish: "It was on the scale of my 2009 stage win [in Aubenas] really, but it was more difficult, because it was unexpected. The stage was hard, the finish was really hard, the uphill. That finish was steep and I went into the red. I was lucky to have my guys, six guys to keep me out of the wind all day. I had Gossy and Tony Martin on that little uphill.
"I put the deep section wheel in; I didn't expect it to be that hard. A technical downhill, but the wind made it harder and slowed it down. At 2K to go, André Greipel turned into my left, there was no way of fending off a big guy. I did drop off. In hindsight that was a good thing it gave me a run up to the finish.
"I thought I was just going to get some points today to stay up for the green jersey. Geraint Thomas with about 200 metres to go. I jumped, got along side Gilbert, that surprised me, and I just kept it going. I was surprised. I'm really happy because it was a difficult one.
"Normally, I like to win by a little margin to save my energy. It took a lot out of me today. It is going to take a couple of days to recover."
Q: You talked about your doubters recently. Who are they and what do you say to them now with this win?
MC: "They know who they are anyway. No [laughs] I don't have to name names. It will happen again, in a stage of the Tour, in the same position. That's a part of being here. You guys have to write something.
"It's always sweet, we try to win every time we are on the bike, but it is always sweet to try to silence the ignoramuses."
Q: You had an incident in the intermediate sprint [with José Joaquín Rojas (Movistar) and Tom Boonen (Quick Step)]. Did it motivate you and are you surprised the jury didn't rule against them? (It later did. - ed.)
MC: "It does not motivate me any more for the finish. I don't know the situation with the intermediate sprint. All I ask for is consistency; otherwise it just becomes a personal thing against me."
Q: Rojas said that you hit him with one kilometre to go today. What do you have to say about it?
MC: "Nothing.
"Does he [Rojas] want to talk about the intermediates? I don't remember hitting no one. I got hit, Greipel hit me."
"If he wants to look back at the intermediate sprint, he can tell me if he sprinted straight. I don't know."
"Hang on! He said [Alessandro] Petacchi hit him. Do you want to start shit or do you want to get your story straight before you start saying that? Where is he? Put that guy back on!
"You are going to get sued for libel if you come up with stuff like that. You are going to get done for libel. You said Petacchi, you said Petacchi."
Journalist: "I said Rojas."
MC: "Yeah. Rojas said, Petacchi."
Journalist: "I am just asking you."
MC: "Do you want me to sue you for libel or him to sue you for libel, or what? Get your story straight before do it. You are going to start bad shit with that. You...."
[A journalist asks a question, asking him to send a personal message to his friends on the Isle of Man.]
Q: Two questions: What do you think about Gilbert's performance today? Secondly, on France 2 TV, you mentioned most of your problems are in here, and you pointed to your head. What are the problems you are talking about?
MC: "If I go into that we wouldn't get out of here tonight [Laughs]. But it's what makes me tick. I am lucky I have some good people around me who keep me sane.
"Gilbert was strong. I didn't think I was going to beat him. Not just today, but the whole year. He's pretty inspiring, I have massive respect for that guy.
"Wait. Just a final thing. I got the news yesterday that my dog Amber died. It's not normal, but I want to dedicate this win to Amber, she was like my little baby. That made me pretty sad. I hope Melissa [his ex-girlfriend - ed.], back on the Isle of Man, is doing okay."
Tour de France 2011: Related links
Tour de France 2011: Cycling Weekly's coverage index
Tour de France 2011: Latest news
How is Ben Swift's first Tour de France going?
Farrar's Tour gamble pays off
Cavendish loses two sprints in one stage
Wiggins off to ideal Tour start
Sky at the Tour team time trial photo special
Vaughters' Garmin-Cervelo team hits cycling's top
Tour GC contenders: the winners and losers after stage one
Already in white, can Geraint Thomas take yellow?
Evans jumps ahead in Tour opener
Tour team time trial training
Cavendish's train must adapt to win Tour stages
Pro predictions: Who will win opening Tour stage?
Tour de France teams presented, Contador booed
Tour de France 2011: Teams, riders, start list
Tour de France 2011: Official start list
Tour de France 2011: Who's riding?
Tour de France 2011: Team guide
Tour de France 2011: Stage reports
Stage five: Cavendish wins in Cap Frehel
Stage four: Evans edges out Contador on the Mur-de-Bretagne
Stage three: Farrar sprints to first Tour victory in Redon
Stage two: Garmin win team time trial to put Hushovd in yellow
Stage one: Gilbert blasts to victory as Tour gets off to spectacular start
Tour de France 2011: Highlights videos
Stage five video highlights
Stage four video highlights
Stage three video highlights
Stage two video highlights
Stage one video highlights
Tour de France 2011: Photo galleries


Stage five photo gallery by Graham Watson
Stage four photo gallery by Andy Jones
Stage four photo gallery by Graham Watson
Stage three photo gallery by Graham Watson
Stage two photo gallery by Andy Jones
Stage two photo gallery by Graham Watson
Stage one photo gallery by Graham Watson
Tour de France 2011 team time trial training photo gallery by Andy Jones
Tour de France 2011 team presentation by Andy Jones
Tour de France 2011 team press conferences by Andy Jones
Tour de France 2011 team presentation by Graham Watson
Tour de France 2011: Live text coverage
Tour de France 2011 LIVE: CW's text coverage schedule
Tour de France 2011: Archive videos
Video: 2003 Centenary Tour
Video: Lance Armstrong retrospective
Video: Behind the scenes at the Tour
Video: Guerini's 1999 stage win
Video: Thrills and spills at the Tour
Video: Armstrong in 1999
Video: The Indurain years
Video: Ladies of the Tour
Video: Best of bizarre


Tour de France 2011: Archive articles1999 Tour de France stage two: Passage du Gois causes chaos
Tour de France 2011: TV schedule
British Eurosport Tour de France 2011 TV schedule
ITV4 Tour de France 2011 TV schedule
Tour de France 2011: Related links
Tour de France: The jerseys, what they are and what they mean
Potted history of the Tour de France
The closest Tours in history
Brits in the Tours: From Robinson to Wiggins
Tour de France 2010: Cycling Weekly's coverage index
Tour de France 2011: Older news items
Cavendish to start all three grand tours in 2011
2011 Tour de France teams named
Tour de France 2011: Route details
The mountains of the 2011 Tour de France
Cavendish challenging for up to eight stages in 2011 Tour
Wiggins and Team Sky confident but not talking of Tour podium
Contador faces tough questions in pre-Tour press conference
Brits in the Tour de France 2011
UCI and AFLD collaborate on Tour de France dope tests
Contador confirmed for Tour de France
Evans set for Tour de France win
UCI says 'respect Contador at Tour de France'
Contador confirms taking part in Tour de France
Bookies slash odds on Wiggins winning Tour
Halfords launches free Garmin Tour de France fantasy game