Chris Froome's physiological test results to be released
Tour de France winner Chris Froome will release the results of an independent physiological test 'before the end of the year'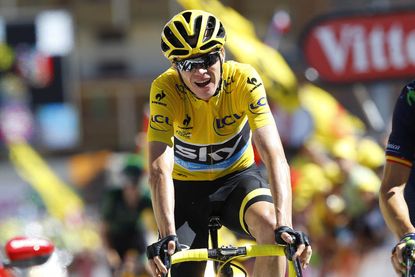 (Image credit: Watson)
Chris Froome has confirmed that the results of his independent physiological testing carried out in the wake of the 2015 Tour de France will be released before the end of the year.
Speaking at the Saitama Criterium in Japan last week, Froome said that the results of the tests would be made available but declined to elaborate further on the nature of the release.
"The results will be published not long from now, before the end of the year the results of that will be published," he said.
When asked whether he, the team or a third party would release the data and in what form, he replied: "you'll have to wait and see".
Froome underwent the testing at the laboratory of GlaxoSmithKline in August 2015 after his second overall Tour win.
It was a victory that was dogged by criticism and ill feeling among some sections of media and public, particularly in France. Froome and Sky were subject to roadside abuse, with Richie Porte claiming to have been punched and Froome being the target of spitting and a fan with a cup of urine.
>>> Brailsford: It's harder for Froome to win the Tour than other riders
In response to the climate of suspicion, at a press conference on the Tour's second rest day Froome and his trainer Tim Kerrison released data from the stage 10 summit finish to La Pierre-Saint Martin, which Froome won in convincing fashion, during the Tour.
However, it did not silence the calls for more of his data to be made public. Froome denied that the independent testing was entirely about proving his critics wrong.
Watch: Best of the 2015 Tour de France
"It's certainly not about necessarily proving anything, it's more about understanding, but again you'll have to wait for that and draw from it what you want," Froome added on the imminent release.
Froome also said that he didn't believe riders should be forced to release power data, a debate which raged during this year's Tour.
"Each to their own, if some guys want to release it that's on them," he said. "I certainly don't feel riders should be pressured into releasing anything, it's completely up to them if they want to do it or not."
Thank you for reading 10 articles this month* Join now for unlimited access
Enjoy your first month for just £1 / $1 / €1
*Read 5 free articles per month without a subscription
Join now for unlimited access
Try first month for just £1 / $1 / €1
Richard Abraham is an award-winning writer, based in New Zealand. He has reported from major sporting events including the Tour de France and Olympic Games, and is also a part-time travel guide who has delivered luxury cycle tours and events across Europe. In 2019 he was awarded Writer of the Year at the PPA Awards.