Chris Froome hit with urine as Tour de France fans get nasty
Team Sky leader accuses minority of fans of "ruining the race" as the atmosphere on the roadside continues to worsen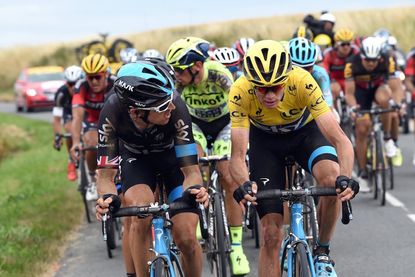 (Image credit: Watson)
Sky's Chris Froome says he had a cup of urine thrown on his face and was called a doper by a fan during the Tour de France's 14th stage to Mende today.
"It was about 50 to 60 kilometres into the race. A small cup of urine was thrown at me," he said. "That's not acceptable. We are professional — for someone to come and to do that, that's not on."
>>> Team Sky raise the alarm as Tour de France fans turn violent
Froome said that he and his team-mates saw the man do it and yell "doper" at the same time.
Englishman Steve Cummings (MTN-Qhubeka) won the 178.5-kilometre stage 14 from Rodez to Mende. Froome protected his yellow jersey lead against an attack from Nairo Quintana (Movistar) on the three-kilometre finishing climb.
Fans lined the roads in southwest France for the 'transitional stage' to the Tour's popular stop in Mende, and Froome applauded the majority of them who turned out to watch the bike race.
"It really is a minority of people out there — some have been very irresponsible. Those individuals know who they are. And it's individuals, all the others have been fantastic and supportive. What those fans are doing, is not acceptable," he explained.
"I want to thank the thousands of supporters we had out there — I want to thank them all. Unfortunately, it's a few individuals who are ruining the race."
Mark Cavendish was splashed with urine during the time trial in the 2013 Tour de France near Mont Saint-Michel.
Sky, however, are feeling the brunt of "a minority" of fans. Fans have booed, thrown Coca-Cola cans and at times, punched. Richie Porte was hit in the ribs during the stage to La Pierre-Saint-Martin on Tuesday.
"When people start hitting riders and things, that's when it's different," Sky's Geraint Thomas said.
"You wouldn't see that in Wimbledon. This is the biggest bike race in the world, the pinnacle of the sport, and for guys to be spat at and people texting Froomey to saying they are going to throw wee on him and hit him with a stick and all of this type of crap. That's not good."
French police have upped security around Sky's bus at the start and finish of the stages in the last two days. It is unknown if it is because of hostility from fans or purely because Froome has the race lead.
"I'm not scared about this. I just hope it doesn't interfere with the racing. That's why we're all here. We're all here to race our bikes," Froome added.
"I'm staying extremely focused on my job that I'm here to do. I'm not going to let anything put me off."
Thank you for reading 20 articles this month* Join now for unlimited access
Enjoy your first month for just £1 / $1 / €1
*Read 5 free articles per month without a subscription
Join now for unlimited access
Try first month for just £1 / $1 / €1