Fan nearly derails Vincenzo Nibali's Tour de France
Spectator stands in road and makes phone call with back to Vincenzo Nibali, nearly knocking him off his bike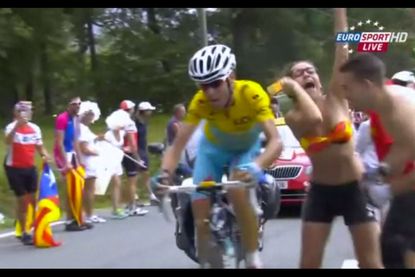 Vincenzo Nibali's march towards Paris and his first Tour de France title nearly came to a halt on Thursday. The Italian raced ahead of his rivals, rode around a bend and collided with a woman. She had her back to the race, telephone raised to her ear and waved to the television camera, but was unable to stop Nibali.
"I've won the Tour? You could say yes, you could say no, there are many dangers out on the road," Nibali said.
"Even today, there were many people on the road. I want to ask the fans to pay attention when we're racing on these roads. They need to give us attention, they need to give us respect. They are here to see us and to cheer us, but they need to pay attention."
Nibali won his fourth stage of the Tour de France and gained more time on his rivals. His nearest rival Thibaut Pinot (FDJ.fr) finished 1-10 minutes down and moved to second overall at 7-10 back.
The telephone incident, although not a selfie like the numerous ones seen when the race began in England, nearly knocked the king off his throne. Nibali came around the bend, hit the women in a bikini top with his left shoulder and charged ahead as her telephone fell to the 13.6-kilometre-long road leading up the Hautacam climb.
The collision reminded followers of the safety video that Tour organiser Amaury Sport Organisation (ASO) released ahead of the race. In the video, several riders including 2013 champion Chris Froome (Sky) asked fans to respect their race.
During stage two to Sheffield, the day Nibali took his first yellow jersey, a fan taking a selfie caused a crash that knocked overall contender Tejay van Garderen off his bike. Nicolas Roche, in response to the incidents, said, "I don't think people realise how much it would hurt to get hit by a cyclist."
Nibali explained that he is enjoying the 2014 Tour, however. The comment came after hearing that Bradley Wiggins told the BBC regarding his 2012 Tour win: "From a personal point of view, there's been times I wish I'd never done all that."
"I had fun in this Tour," Nibali said. "Two years ago, it was different with riders like Wiggins, who were stronger in the time trial. This has been a hard Tour, with never an easy stage to manage."
Thank you for reading 20 articles this month* Join now for unlimited access
Enjoy your first month for just £1 / $1 / €1
*Read 5 free articles per month without a subscription
Join now for unlimited access
Try first month for just £1 / $1 / €1