Luca Paolini: Beard power
Katusha's Tour de France captain and Ghent-Wevelgem winner Luca Paolini talks about his lucky-charm facial hair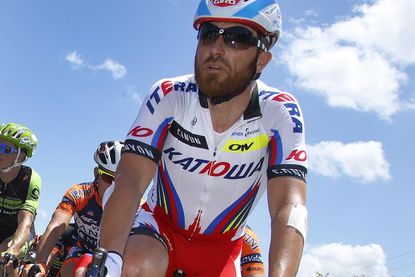 (Image credit: Watson)
Katusha's midfield general, Luca Paolini is now as famous for his facial hair as his almost unparalleled ability to organise and drive the peloton.
Following the Italian's win this spring in Ghent-Wevelgem, and before he starts the 2015 Tour de France, we thought it would be perfect time to get the low-down on that beard...
Organic origins
"It just takes two to three weeks to let it grow from clean-shaven to how it is now. I started to grow the beard after the 2013 Giro d'Italia. I took the pink jersey in that Giro. After the race I was so fatigued that I was too tired to shave, and I let my beard grow. After a while I really started to like it because my wrinkles were not so visible any more."
Is it here to stay?
"In spring 2014 I said to myself the only time I'd get rid of it was when I won a Classic — oops I've won one now haven't I? Help! — so, it is still there for the time being but I'm keeping it shorter now."
Daily maintenance
"I do have a daily grooming regime to keep it in good shape. I keep it in good form, wash it and apply balsam. All it takes is just one good minute."
Tips for fellow beardies?
"A good tip is to make up a cream of carrots, potato and beetroot and let it stay on the beard for the whole night…"
This article originally appeared in the Summer 2015 issue of Cycle Sport magazine
Video: Tour de France 2015 contenders
Thank you for reading 20 articles this month* Join now for unlimited access
Enjoy your first month for just £1 / $1 / €1
*Read 5 free articles per month without a subscription
Join now for unlimited access
Try first month for just £1 / $1 / €1