Peter Sagan jokes with sprinters about forming a breakaway (video)
Tinkoff-Saxo's Peter Sagan tries to convince a group of sprinters to form a breakaway after competing for the intermediate sprint at the Tour de France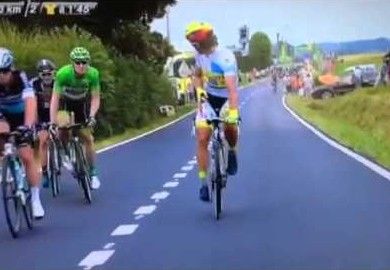 Peter Sagan is well known for enjoying himself on his bike, be it skids, wheelies or chuckling with his fellow riders at the Tour de France.
The Tinkoff-Saxo all-rounder contested the bunch sprint for the intermediate points on stage four which saw him and four other sprinters some distance up the road from the pack they'd just sped away from.
Instead of simply dropping anchor and waiting to be swallowed up by the bunch, like always happens, Sagan jested that the unlikely fivesome should put the hammer down and form a breakaway of their own.
Andre Greipel didn't quite realise the joke straight away, looking back to the peloton and shaking his head to Sagan, while John Degenkolb chuckled away at the back.
Mark Cavendish, who won the sprint for the green jersey points, simply looked away to the side of the road, while Bryan Coquard nonchalantly pedalled on behind them all.
Mark Cavendish's Tour de France bike