Prudhomme wants to see passion from Portsmouth if it is to land Tour de France stage
Tour de France director Christian Prudhomme calls on the people of Portsmouth to show their passionate about hosting the Grand Depart in 2019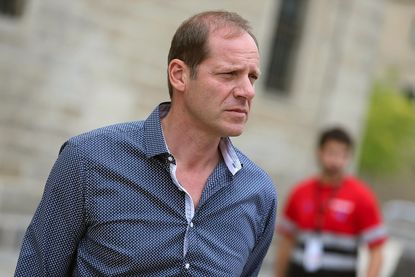 (Image credit: Watson)
Christian Prudhomme has indicated his interest at bringing the Tour de France to Portsmouth in 2019 so long as the city proves its passion for cycling.
Portsmouth hope to host the 2019 Grand Depart to coincide with the 75th anniversary of the D-Day landings, after originally unveiling plans to host the race a year earlier.
After admitting his intention to visit the city, Prudhomme welcomed the idea of beginning the Tour on such a significant occasion.
"I like the idea of the D-Day anniversary. It's important there are links beyond cycling with people. Of course I'd be interested in a visit to Portsmouth, it's just a question of agenda," he told the Portsmouth Evening News.
"It's a question of passion. From the very first moment, you know if the people have a passion for cycling and for Le Tour.
"England is a country with a passion for cycling and for Le Tour. We were very impressed with all the people and all the passion. People were on their bikes in the UK, in London for example, much more than in Paris."
Portsmouth previously hosted stage five of the Tour in 1994 but the city now plans to stage the Grand Depart in three years time as Yorkshire did in 2014.
Though that success has encouraged Yorkshire to bid for the Grand Depart once again, providing direction competition to Portsmouth, the city will be encouraged by Prudhomme's claim that whatever happens, the Tour will return to the UK at some point.
"In 2014 the plan was not to start in Yorkshire, the plan was for 2016 or 2017, but the reason was because of Bradley Wiggins' victory. Our answer after that was to start the Tour as soon as possible from the UK," he added.
"We have a bid from Portsmouth and Gary Verity wants to have a second Grand Depart from Yorkshire. It's not a question of if, it's a question of when but I don't know right now."
Thank you for reading 20 articles this month* Join now for unlimited access
Enjoy your first month for just £1 / $1 / €1
*Read 5 free articles per month without a subscription
Join now for unlimited access
Try first month for just £1 / $1 / €1