Portsmouth unveils bid to host 2018 Tour de France
Having hosted the Tour de France back in 1994, Portsmouth is hoping to welcome the race back to the South Coast in 2018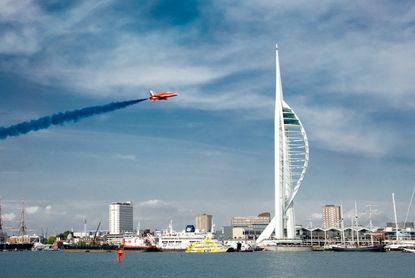 Portsmouth is bidding to host a stage of the 2018 Tour de France, as part of a joint bid with Brittany Ferries and Portsmouth's twin city, Caen.
The city in the south of England has a history of hosting the Tour, having welcomed stage five of the 1994 race; a stage won by Italian Nicola Minali.
Councillor Donna Jones, leader of Portsmouth City Council, believes the crowds for a stage on the South Coast would be greater than those in Yorkshire in 2014 due to the ease of access from the Continent.
"I would expect given the success of the Tour de France that visitor numbers would be higher on the south coast as we are only a few hours away from France," she told the Portsmouth News.
"I would expect the boost to the local economy would be well in excess of £100m.
"This would be another exciting event in our calendar."
>>> Portsmouth cycling improvement plans need to be realistic, warns minister
Cllr Jones believes that having Caen and Brittany Ferries on the bid will increase the city's chances of success and showcase Portsmouth on the world stage.
"It would bring millions to Portsmouth and project images of Portsmouth around the world," she added.
"It will reinforce confidence that Portsmouth is a changing place that's aiming really high and has high aspirations for itself.
"What we need to be doing is sending a message to local businesses and any business thinking of relocating that Portsmouth is the place to be."
>>> Could Newcastle be the next British host of the Tour de France?
Portsmouth will be showing its ability to host world class sporting events over the next two summers as it hosts sailing's America's Cup world series for the next two years.
Thank you for reading 20 articles this month* Join now for unlimited access
Enjoy your first month for just £1 / $1 / €1
*Read 5 free articles per month without a subscription
Join now for unlimited access
Try first month for just £1 / $1 / €1