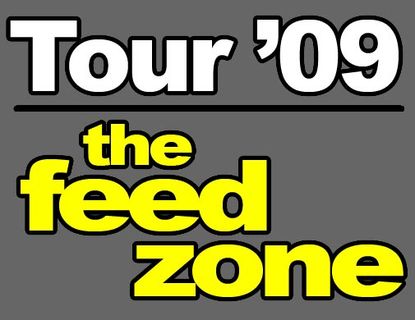 Welcome to the Feed Zone, where you can pick up some tasty snacks to keep you going between Tour de France meals.
Cycling Weekly's snippets come packaged in a handy web page-sized musette. Gel or bar options also available.
WIGGINS IN GREEN. YELLOW BECKONS?
Bradley Wiggins gets to look after Fabian Cancellara's green jersey for the day on Sunday. But come Tuesday night he could be in yellow.
The Garmin rider was third in the stage one time trial, 19 seconds behind Cancellara of Saxo Bank and a single second behind Alberto Contador of Astana.
Because Contador was the quickest to the top of the climb at Beausoleil, he was awarded the king of the mountains jersey, which means that Cancellara's green jersey passes to Wiggins.
He's only looking after it, mind, but still it'll give him something to pull Mark Cavendish's leg about today. If Cavendish wins today's stage in Brignoles, though, he'll be in green by rights.
Anyway, to Tuesday, and the team time trial in Montpellier. The first two thirds of the course are twisty and technical and will favour the teams that have put in the most work on technique.
At the Giro d'Italia, Garmin were toppled by Columbia, but they want to make amends this time. And they have every reason to be super-motivated. If Garmin can beat Saxo Bank by 20 seconds, and Astana by two seconds, Wiggins will be in yellow. That's assuming, of course, that Sunday and Monday's stages end in bunch sprints and Wiggins avoids any disaster.
If Wiggins were to wear yellow, he'd become the fifth British rider to wear the maillot jaune after Tom Simpson (1962), Chris Boardman (1994, 1997, 1998), Sean Yates (1994) and David Millar (2000), but perhaps we're getting ahead of ourselves.
CAV HOMES IN ON 42nd PRO WIN
Mark Cavendish is the favourite to win Sunday's second stage in Brignoles, although there's plenty of sprinting talent standing in his way, so it won't be a foregone conclusion.
Cavendish's coach Rod Ellingworth told CW yesterday that the rider is particularly keen to hit the ground running at this Tour. Last year it took him until Wednesday to win his first stage, and at the Giro d'Italia this year, he was beaten by Alessandro Petacchi at the first sprinting opportunity.
"He really wants to get a win under his belt as soon as possible," said Ellingworth. "That's one of the things he's been focusing on. At the Giro it didn't quite happen for him on the first day. He'd like to get everything right at the first attempt here."
When Cavendish does win a stage, he will over-take Chris Boardman and become the most prolific British pro, with 42 wins. See n Cycling Weekly's all-time list of British pro winners for the current league table.
BIGGEST SMILE OF THE DAY
Christian Vande Velde was all smiles after the stage one prologue. After crashing out hard at the Giro d'Italia his place in the Tour was in threat. But he's recovered quickly and took 17th place on the stage. He wasn't only happy to be back, but was delighted to do such a good ride and has his eyes on the top 10 overall again. Time is on his side, because he should ride himself into the race as it goes on.
QUOTE OF THE DAY
After being disqualified from a British 10-mile time trial for using a pair of Zipp 1080 wheels, which are barred by the CTT, the body which governs time trialling in the UK, Wiggins chose a different pair of wheels. "I used an 808 today, just in case the CTT were out there in their fleeces and woolly hats," he quipped.
NEXT THING FOR THE UCI TO BAN
Talking of rules, If it's not already banned by the UCI's dusty book, it may be soon. Bradley Wiggins wore an iPod during the time trial, not to listen to anything specific but to block out the noise from the crowd, the helicopter, the motorbikes and, presumably, his directeur sportif.
BIKE HEAVEN
As the sun set in Monaco, Saxo Bank's mechanics were building up a special yellow Specialized for Fabian Cancellara to ride today.
Bike lovers would have had a field day wandering around Monaco in the run-up to the time trial. There was so much new kit on show.
Big news for the current season, was that handlebars and seat posts have been remodeled to conform to the UCI's reinforced three-to-one ratio.
See Thursday's Cycling Weekly for pictures of the best of the new kit.
WHEN EDDY MET BRADLEY
While Bradley Wiggins was waiting to be interviewed by Ned Boulting and Chris Boardman for ITV4, five-time Tour-winning legend Eddy Merckx approached.
"Hey, Brad, what happened? I thought you were going to win," shrugged Sir Eddy.
"Cancellara happened," said surely-soon-to-be-Sir Bradley.
G'DAY DAVE
Spotted in the press area, working for Australian media: David McKenzie. The former Linda McCartney rider who won a stage of the 2000 Giro d'Italia for the short-lived British pro team.
WHY NO YELLOW?
Tradition has it that the defending champion starts the Tour de France's opening time trial in yellow, but on Saturday Carlos Sastre wore a Cérvelo skinsuit. Tour officials explained they had quietly dropped this tradition – for it is a tradition rather than a written rule.
However, it has never been customary for the Tour champion to wear yellow in anything other than a prologue. For example, in Futuroscope in 2000 the race started with a 16-kilometre stage one time trial and reigning champ Lance Armstrong wore standard US Postal Service colours, just as he wore Discovery Channel blue and grey for the stage one time trial in Fromentine in 2005.
So, disappointed though Cérvelo were, it was not without precedent.
GRIPPED BY FEAR?
Anne Gripper, the UCI's head of anti-doping, was in Monaco for the opening time trial.
We saw her in the finishing straight a couple of times during the afternoon and we could have sworn we saw one or two riders swerve to avoid her.
Only joking.
ROOM AT THE INN?
The people who draw up the accommodation lists for the Tour de France must have been having a laugh when they chose the Hotel du Couvert Royal at Saint-Maximin-la-Sainte-Baume for Sunday night.
The hotel will be home for just two teams. Lance Armstrong's Astana. And Jonathan Vaughters's Garmin-Slipstream.
We'd love to be a fly on the wall at dinner. In fact, we're tempted to sneak in and move the dining tables a bit closer together.
ON THE Q.T
CW had lunch with the guys from British Cycling and Sky before the stage one time trial. We could tell you what was said, but then we'd have to terminate you. All will be revealed in the coming weeks, we've been promised. In the meantime, we can say that with them were the two men who will be designing the team buses. Previously they both worked in Formula 1.
DENNIS DERAILED
Six weeks ago Denis Menchov won the very, very hard, very technical, very twisty time trial at the Giro d'Italia.
Yesterday it was business as usual as the Russian cornered like a Shire horse on the descent to lose more than a minute and a half.
A quick scan of the road book on Saturday night will have told Denis that a minute-and-a-half is going to be very difficult to regain.
SHORT BACK AND SIDES
Vladimir Karpets has finally seen the light and has cropped his awesome mullet and shaved off his beard. However, like Samson, he hasn't had the same strength since.
OVERHEARD IN THE CROWD
"Lance isn't the best in the race. He's only the fourth best guy on his own team. He's going to spend three weeks going back to the car to fetch bottles."
YOUNG GUNS
The battle for the white jersey is going to be white hot if the time trial is anything to go by. Roman 'Rich Boy' Kreuziger was the best of the crop but he will face the biggest challenge from Andy Schleck, who may not have been right up there, will be fighting to win the race overall, so he remains the favourite for the white jersey.
But there's also Kreuziger's Liquigas team-mate Vincenzo Nibali to consider, as well as Robert Gesink of Rabobank, who may well usurp Denis Menchov as team leader at this rate. Columbia's Bob Stapleton was talking up Tony Martin, who sounds like an Essex taxi driver, but is actually a German cyclist, too. They reckon he will do very well for two weeks but may fade in the third.
GRIM FOR KIM
Oh dear. It's going to be a long way back for Columbia's Kim Kirchen. He lost 1-57 and finished a lowly 109th in the time trial.
AND FINALLY
Prince Albert of Monaco trod on your CW correspondent's foot as he did a Royal walk-about at the finish line. Our man recoiled and obviously made a bit of a face, which earned him a gentle shove from one of the Prince's hired goons in a suit and menacing shades. Well, it's his country we suppose, he can tread on feet if he pleases.
TOUR DE FRANCE 2009
Tour de France 2009 - the hub: Index to reports, photos, previews and more.
STAGE REPORTS
Stage one: Cancellara wins opening time trial
NEWS
Tour de France 2009 News Index
Wiggins challenging for top 20 overall
The Feed Zone: Sunday, July 5
Cancellara: Tour time trial win proves I'm backTour de France teams in Monaco presentation
Boonen free to ride in Tour de France
Dan Marint disappointed at Tour de France non-start
Dekker positive for EPO, Wegelius gets his Tour place
New anti-doping test for Tour de France
EXCLUSIVE VIDEOS
Stage two: Mark Cavendish on the Tour
Stage one: Jonathan Vaughters on Bradley Wiggins' chances
TOUR DE FRANCE 2009 PHOTOS
Stage one photo gallery by Graham Watson
Team presentation by Andy Jones
Team presentation by Graham Watson
TOUR GUIDE

Tour de France 2009 - the hub
Tour de France 2009: Who's riding
Tour de France 2009: Team guide
About the Tour de France
FEATURES

Tour de France 2009 on TV: Eurosport and ITV4 schedules

Big names missing from 2009 Tour de France

Tour de France anti-doping measures explained

Brits in the Tours: From Robinson to Cavendish
Cycling Weekly's rider profiles
TWITTER
Follow the Tour on Cycling Weekly's Twitter feed
Thank you for reading 20 articles this month* Join now for unlimited access
Enjoy your first month for just £1 / $1 / €1
*Read 5 free articles per month without a subscription
Join now for unlimited access
Try first month for just £1 / $1 / €1