Tinkoff-Saxo's Tour de France water bottle vest
Sportful make the Tinkoff-Saxo's domestique's job easier with its vest capable of carrying multiple water bottles to team-mates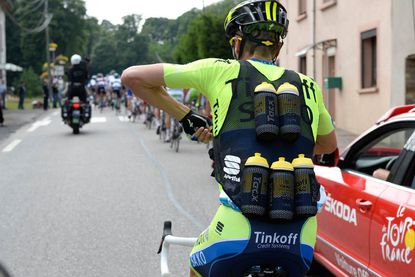 (Image credit: Graham Watson)
One of the most talked-about new pieces of equipment at the 2014 Tour de France hasn't been a super-light carbon-fibre frameset or an 11-speed electronic groupset, but a humble vest.
Anything that makes a rider's life easier is bound to go down well, and Sportful's 'bottle vest' is a simple yet effective solution to an age-old problem.
It consists of a mesh vest with pockets on the back designed to carry full water bottles, rather than a loyal domestique stuffing bottles in their back pockets and up their jersey.
Used exclusively by Tinkoff-Saxo during the Tour, the vest can be loaded with bottles by a helper in the team car and then slipped over the shoulders of the willing domestique. Once the water carrier has ridden up to the peloton, team-mates can grab their bottles themselves.
"It's a really nice idea – and no one has thought about it before," said Tinkoff-Saxo's Daniele Bennati. "The bottle vest is much faster. When I go to the team car, the sport director or mechanic has prepared it for me, I put it on and off I go. When I reach my teammates, they can just take the bottles straight of my back."
Thank you for reading 20 articles this month* Join now for unlimited access
Enjoy your first month for just £1 / $1 / €1
*Read 5 free articles per month without a subscription
Join now for unlimited access
Try first month for just £1 / $1 / €1