Tour de France: News overdrive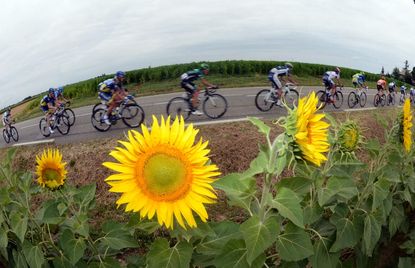 The Tour de France, the biggest bike race in the world, spurs opportunities, stories and rumours like no other cycling event. This week, prior to the 100th edition starting Saturday in Corsica, the wires have been full of announcements and allegations.
From a marketing standpoint, the time is right to announce new deals. And if you are out to create controversy or give your story more legs, then the moment is now, on the eve of Le Grand Départ.
Teams and sponsors
Trek announced today that it would take over RadioShack-Leopard WorldTour licence at the end of the season. Sky and Belkin also took advantage of the Tour's timing.
Overnight, Sky communicated a new multi-year deal with 21st Century Fox. The team said, "The 21st Century Fox brand appear prominently on riders' kit and team vehicles from the start of this year's Tour de France." James Murdoch, News Corporation's Deputy COO, added, "It's a great time to increase our commitment to Team Sky."
Belkin officially revealed on Monday it would take over sponsorship of team Blanco. Instead of waiting until the winter, it signed a two and a half-year deal so its name would appear on the team's kit immediately with the Tour de France.
Doping
The Tour also brings its share of doping stories, allegations and rumours. Just as the time is right for sponsor announcements, it seems the time is right to pressure cyclists.
Laurent Jalabert already defended his past, which included the Tour's points and mountain jersey, to a French commission, but had no answers for L'Equipe. The French sporting daily reported retroactive testing results that showed Jalabert used EPO in the 1998 Tour de France.
Jalabert suffered a bad training crash over the winter. It prohibited the Frenchman from continuing his motorbike commentary, but he was due to continuing commenting for RTL and France Televisions. Instead, he pulled himself out because the controversy became too much.
Jan Ullrich, 1997 Tour winner, admitted on Monday in German magazine Focus that he blood doped with Doctor Eufemiano Fuentes. A the sport's high court, CAS already found him guilty, but Focus was able to get more out of the German in time for the start of the 100th Tour.
Froome in focus
Chris Froome has come under attack in his Tour lead-up. Antoine Vayer, a journalist and a team Festina trainer from 1995 to 1998 wrote a magazine, Not Normal?, about power output figures of several past and current riders, alleging Sky's leader's performance was 'miraculous' based on numbers produced.
Vayer asked riders to comment on their performances. Sky released the same statement for Froome and Wiggins.
It read, "Both Chris and Bradley have received your e-mail and each has considered their response. They have been asked many times before about their stance on doping and their approach to performance. It's all already firmly on the record; neither has used banned substances or illegal practices.
Bike Pure, the organisation to promote clean cycling, dropped Froome from its list of riders. It said it did so after a lack of response from Froome.
"We have asked for clarification from Chris on a number of occasions in the last 18 months via e-mail and direct message on Twitter if he still wished to form part of our organisation," co-founder, Andy Layhe said in a press release. "As a result of not receiving such clarification from Chris or Team Sky in recent days we have made the difficult decision to remove his bio page from our website."
Froome's fiancée, Michelle Cound indicated that Bike Pure was also taking advantage of the Tour's timing.
"I responded but you demanded that he reply two weeks before the Tour," she wrote in Twitter. "Basically promote you or else? Ridiculous..."
UCI battles
Riccardo Riccò and the Union Cycliste Internationale (UCI) squared off this week. Riccò, who made headlines by winning two stages in the Tour and being booted soon after for doping, accused the UCI of covering up other cases.
Riccò wrote on Twitter on Tuesday that 48 riders had tested positive for EPO-CERA in the 2008 Tour.
The UCI fired back and said, "This unsubstantiated claim is totally untrue." It explained that the results also go to the French anti-doping agency (AFLD) and World Anti-Doping Agency (WADA). Adding, "It is simply not possible for a positive test to be covered up."
The UCI President Pat McQuaid also took aim at Brian Cookson. British Cycling's president is running against McQuaid in the UCI's elections this September. McQuaid shot down Cookson's platform yesterday, calling it "half-baked."
Cookson responded on Wednesday: "[McQuaid's] bullying and haranguing style seems designed to antagonise everyone who does not share his approach to the governance of world cycling. Yesterday's release was a reminder of the sometimes absurd and entirely counter-productive feuds in which he has engaged."
The UCI's battles, doping allegations and sponsor announcements show no sign of letting up. Even with the 100th Tour de France due to begin on Saturday, it appears the action has already begun.
Related links
Tour de France 2013 coverage index
Read Cycling Weekly magazine on the day of release wherever you are in the world with our iPad and iPhone edition - International digital edition, UK digital edition. And if you like us, rate us!
Thank you for reading 20 articles this month* Join now for unlimited access
Enjoy your first month for just £1 / $1 / €1
*Read 5 free articles per month without a subscription
Join now for unlimited access
Try first month for just £1 / $1 / €1