Yorkshire in formal bid to host Tour de France start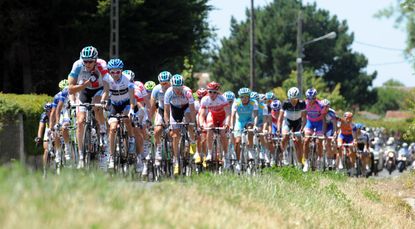 Yorkshire has joined Scotland in submitting a formal bid to host the Grand Depart of the Tour de France.
The bid to host the 2016 Tour start has been submitted by the 'Welcome to Yorkshire' tourism authority to Amaury Sport Organisation (ASO), organiser of the prestigious Grand Tour. Barcelona, Venice and Berlin have all also reportedly submitted bids to host the 2016 Tour start.
As part of the bid, Welcome to Yorkshire are asking people to lend their voice to the campaign by signing an online pledge of support.
"Yorkshire needs your support to bring the Tour de France to the county," says a statement on Welcome to Yorkshire's website.
"The Tour de France is the world's largest annual sporting event, watched by 88 million people around the world. Hosting the race in Yorkshire will provide a multi-million pound boost to the economy and showcase Yorkshire globally."
Sky professional riders Mark Cavendish and Ben Swift have already voiced their support to bring the Tour to Yorkshire.
Representatives from ASO are due to visit Yorkshire in May to study the proposed route, which will take in Hull, Leeds, Scarborough, Sheffield, York and the Yorkshire Dales according to the BBC.
The Tour de France last visited Britain in 2007, when a highly successful Grand Depart was hosted by London. After a short prologue stage around the capital, the race then headed south from London through Kent.
Two million people turned out to watch the race in London, with a further 2.5 million lining the road stage through Kent. Transport for London estimated that the Tour's visit to the capital in 2007 netted an £88 million boost to the economy. London's hosting of the Tour played a part in the city's successful bid to host the 2012 Olympic Games.
This year's Tour de France starts in Liege, Belgium, on Saturday June 30 and concludes in Paris on Sunday July 22.
Related links
Tour de France news section
Scotland bids to host Tour de France Grand Depart
External link
Thank you for reading 5 articles this month* Join now for unlimited access
Enjoy your first month for just £1 / $1 / €1
*Read 5 free articles per month without a subscription
Join now for unlimited access
Try first month for just £1 / $1 / €1