Amateur holds off professionals to cling on to Tour of Britain Strava segment
Liam Beaty set his KoM up the B6357 in southern Scotland on August 25 and hung onto it by six seconds after the Tour of Britain peloton passed by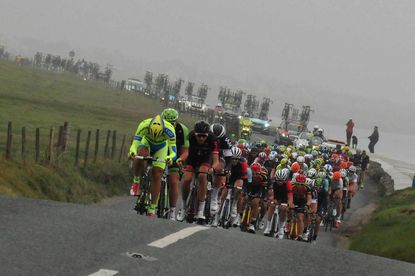 Normally when a professional bike race passes through your local cycling patch you can wave goodbye to any hope of hanging on to your Strava KoMs, but when the Tour of Britain passed into Scotland one local amateur held off the big boys.
Liam Beaty set his best time up the exotically named 'B6357 climb' segment just two weeks ago on August 25, with an average speed of 16.9mph up the 2.7mi hill, which averages four per cent, for a time of 9-35.
When the Tour of Britain passed over the border on its way to Kelso on Tuesday, Madison-Genesis's Matt Cronshaw was the closest rider to matching that time, falling six seconds short.
JLT-Condor rider Graham Briggs finished eighth on the stage and picked up the same number of KoMs along the 139mi route, including the Dingleton Climb - the final ascent on the course - but saw that snatched straight away by Madison-Genesis's Tom Stewart.
Stage four of the race departs Edinburgh and finishes back over the border into Northumberland to the stage finish in Blyth.
Thank you for reading 20 articles this month* Join now for unlimited access
Enjoy your first month for just £1 / $1 / €1
*Read 5 free articles per month without a subscription
Join now for unlimited access
Try first month for just £1 / $1 / €1