'As a moto rider on the Vuelta, I feel like a pariah right now'
All eyes are on moto drivers after a spate of high-profile accidents — but who is to blame?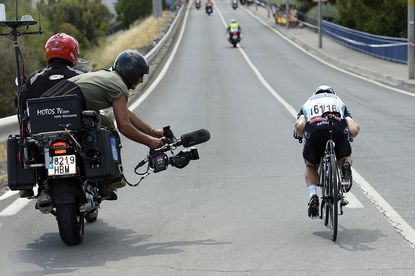 (Image credit: Watson)
Get The Leadout Newsletter
The latest race content, interviews, features, reviews and expert buying guides, direct to your inbox!
Thank you for signing up to The Pick. You will receive a verification email shortly.
There was a problem. Please refresh the page and try again.
I am a motorcycle driver on the Vuelta a España.
There. I've said it. It doesn't feel great to be the pariah of the moment.
I'm avoiding social media. Many of us who work on motos in the big bike races are not enjoying our five minutes in the spotlight, after two incidents involving motos in this race and plenty of others in the last year or so.
I used to think riding a motorbike around the peloton took a certain temperament and skillset that a select few ever got the chance, and privilege to experience. Now it might seem that anyone can jump on a bike and knock off a cyclist — but really, it's not as simple as that.
Watch Cycling Weekly's guide to the Vuelta
For about three years the UCI has implemented a driver licensing system for all car and motorbike drivers in their sanctioned events. There is a seminar to attend and a licence issued annually, which you have to present to race organisers when you apply for accreditation.
There is not a riding test. It would be virtually impossible to replicate the many scenarios that moto drivers find themselves in during a pro race. Even harder to recreate is the stress of working on the motorbike with so much going on around you, and often the pressure to get your particular job done.
Moto drivers also have quite different roles on a race. I drive a stills photographer, while another will have a TV cameraman on the back. Then there are the neutral service bikes, the race officials and a lot of police.
We all come to the job from different backgrounds. Some, like the police, are trained professionally. Some were cyclists, but many are just keen motorcyclists who love the challenge of working on bike races. All are more than competent motorbike riders, and every one us starts each day with the same thought in our head: Don't knock a rider off!
So how did these accidents happen?
It's not easy to pass judgement unless you have seen actual footage of the crash or heard testimony from both parties. You might say that the cyclist is always in the right, and that it's our job to stay out of their way at all times — but that is often not possible in the tight, fluid and sometimes chaotic environment directly in front and especially behind the race.
And inside the race too, as we often have to pass the peloton in very tight situations. You can be minding your own business and still find yourself trying to avoid a crash or a rider suddenly changing direction.
Yesterday's crash involving a TV bike and Sergio Paulinho was a case in point. We were just ahead and saw the TV bike ahead of the race, possibly filming live, run wide on a tight downhill corner, which incidentally also caught Chris Froome out.
https://www.youtube.com/watch?v=gmHRDouA2_A
Paulinho cannoned into the TV bike, but was trying to correct his line on that bend and therefore could not avoid the motorcycle? Would he have crashed anyway?
I am not saying that this absolves the motorbike, but consider the case of Geraint Thomas being taken out by another rider in the Tour de France. Thomas was minding his own business and was unlucky to be in the path of a rider who could not make the bend. It's a very similar scenario.
https://www.youtube.com/watch?v=E1eRPyuuy3M
Without TV there is no pro cycling. Take away the press bikes and there is no visual media coverage of the race.
We have been talking about this spate of accidents and there is no easy explanation. Are the bicycles cornering faster and catching us out? Are moto drivers less competent that before? In one or two cases it could be the latter, and those drivers will not be welcome on a bike race again.
How the UCI tests and registers drivers in the future is a knotty issue. Maybe only ex-professional cyclists can do it. Or maybe there should be a levy from the teams to pay for a team of pro moto drivers who all ride the same bikes and travel to all the races.
That, however, would be costly... and it would certainly spell the end of my own 25-year-obsession with one of the most satisfying, thrilling and challenging jobs around.
Luke Evans is Graham Watson's moto driver on the Vuelta a España
Thank you for reading 20 articles this month* Join now for unlimited access
Enjoy your first month for just £1 / $1 / €1
*Read 5 free articles per month without a subscription
Join now for unlimited access
Try first month for just £1 / $1 / €1
Get The Leadout Newsletter
The latest race content, interviews, features, reviews and expert buying guides, direct to your inbox!