Second Tinkoff-Saxo rider hit by motorbike at Vuelta a España
Sergio Paulinho is the second Tinkoff-Saxo rider to be involved in a collision with a motorbike at the 2015 Vuelta a España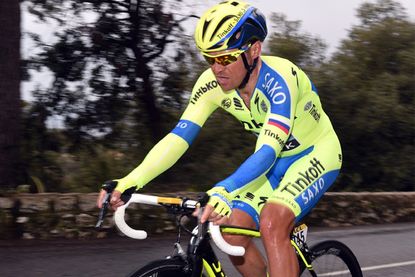 Sergio Paulinho (Tinkoff-Saxo) has been reportedly hospitalised after being knocked off his bike by a race motorbike on stage 11 of the Vuelta a España.
He is the second rider from the Russian team to abandon the race in an incident like this after Peter Sagan was injured on stage eight.
The news first came through when the team tweeted their disbelief that this had happened.
Before today's Vuelta stage Tinkoff-Saxo released an open letter to the Vuelta's organisers and the UCI over the Sagan moto collision, and today's episode will only add to their campaign.
The letter stated five demands including a public apology and a charitable donation to the value of the prize money for the green jersey competition (which, presumably, Tinkoff-Saxo are thinking Sagan would definitely have won).
Team owner Oleg Tinkov was understandably upset by the occurrence, and expressed some conspiracy theories on who might be responsible.
This will surely warrant a response from the organiser and the UCI, and we await to see what approach they will take.
Thank you for reading 20 articles this month* Join now for unlimited access
Enjoy your first month for just £1 / $1 / €1
*Read 5 free articles per month without a subscription
Join now for unlimited access
Try first month for just £1 / $1 / €1