Twitter reacts to Peter Sagan's moto incident
Here's what the man himself and others had to say on social media following an incident in which Peter Sagan was knocked off by a support motorbike in the Vuelta a España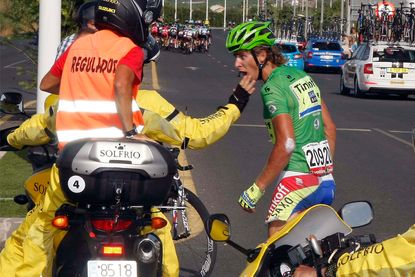 During stage eight of the 2015 Vuelta a España, the biggest talking point from the race was an incident in which Peter Sagan was knocked off his bike by a support motorbike.
What's more, it was a stage he could plausibly have won and he was later forced to withdraw from the race entirely as a result of his injuries.
As is the way these days, people took to social media to voice their concern for the rider, their dismay at the fact he was fined for his reaction and in one case some conspiracy theories on the whole sorry affair.
The man himself was relatively restrained in his calls for reforms as a result of the incident. This isn't the first time a race vehicle has stolen the headlines this season.
Sagan's Tinkoff-Saxo team confirmed the news that a race motorbike was to blame for the incident, something that wasn't entirely clear at first due to a lack of footage.
The day after the incident, once the Slovak had been forced to leave the Vuelta, he posted a statement from his team espressing their dissatisfaction about the forced withdrawal of their co-leader.
Something a bit lighter from elsewhere in the twittersphere…
Never shy to say what he thinks, team owner Oleg Tinkov make his feelings clear in no uncertain terms.
He then left it a couple of hours before voicing a bit of a conspiracy theory on what he thinks could have been a wider plot against his team and its star riders.
ITV's Ned Boulting gave us all a bit of perspective on the strange world of the UCI's fines and punishments. Some topical examples from this year's Vuelta that highlight the seemingly unconnected nature of infringement to financial penalty.
Boulting's Vuelta highlights co-presenter and ex-pro David Millar had a better idea for the moto driver after their expulsion from the rest of the race.
GCN's man in America Neal Rogers articulately described what a number of us were thinking when news came through that Sagan had been penalised for his reaction to being toppled off and injured.
Let us know if we've missed any insightful or amusing tweets about Sagan's moto incident in the comments below.
Thank you for reading 20 articles this month* Join now for unlimited access
Enjoy your first month for just £1 / $1 / €1
*Read 5 free articles per month without a subscription
Join now for unlimited access
Try first month for just £1 / $1 / €1