Teams left angry after Tour of Flanders neutral service car incidents
Trek and FDJ teams ask questions after Shimano neutral service cars hit their riders during the Tour of Flanders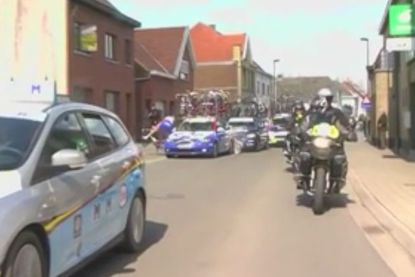 Teams involved in two separate incidents with Shimano neutral support cars in Belgium's Tour of Flanders on Sunday left the race upset. Its blue service cars caused the crashes of both New Zealander Jesse Sergent (Trek Factory Racing) and Frenchman Sébastien Chavanel (FDJ).
In Oudenaarde's main square, 500 metres beyond the finish line where Norway's Alexander Kristoff won, the atmosphere was not as festive as it should have been. Trek's rider was at the hospital, where X-rays confirmed a broken left collarbone, and its staff argued with Shimano's men in blue.
Shimano usually work in the background, servicing when teams are unable to help their cyclists, but they made headlines in 'De Ronde'.
"It's difficult to understand why a driver was just accelerating instead of [braking]," Trek Factory Racing's general manager, Luca Guercilena, explained.
Updated: Two incidents involving Shimano neutral service vehicles during 2015 Tour of Flanders; Shimano issues apology
"The trajectory of the turn was on the left side, so it's normal that the riders are moving on the left side." Shimano's blue service car squeezed passed the escape through a left bend and clipped Sergent with 110 kilometres to race. Doing so, it reduced the day's main escape group from seven to six men.
Across the square, Team FDJ's Marc Madiot looked at the rear of his Skoda estate and shook his head. When FDJ's driver braked hard to service Sébastien Chavanel at 79 kilometres to race, a separate Shimano car failed to stop in time and smashed into the rear-end of Madiot's car.
It forced the FDJ car into Sébastien Chavanel, who was slowing for service, and sent him flying.
"Chavanel calls with a puncture," Madiot explained. "I pull over by Chavanel, then, pang! Shimano whack us up the backside and pushed the car 15, 20 metres."
Chavanel reported on Sunday evening on Twitter that he escaped fractures, but suffered a "significant right thigh hematoma".
There were reports that the same Shimano car caused both incidents, but plate controls in Oudenaarde's square confirmed otherwise.
Shimano issued a statement after Flanders and said it would "take appropriate action".
"We especially apologise to the riders and teams involved, Jesse Sergent and Sébastien Chavanel. We wish them a speedy recovery," it read.
"The drivers of the neutral cars are professionals with many years of experience in professional cycling races. We will investigate both incidents deeply."
Thank you for reading 5 articles this month* Join now for unlimited access
Enjoy your first month for just £1 / $1 / €1
*Read 5 free articles per month without a subscription
Join now for unlimited access
Try first month for just £1 / $1 / €1