BMC explain how Tejay van Garderen saved his Vuelta after stage six crashes
The American had a difficult day on stage six that could have seen him out of Vuelta a España contention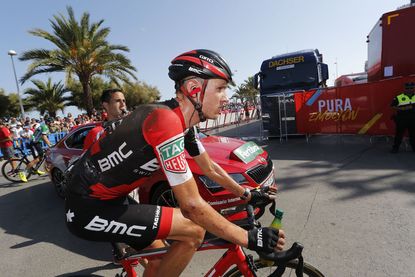 (Image credit: Yuzuru SUNADA)
BMC Racing says that cool-headedness and some luck saved Tejay van Garderen's day on the Vuelta a España's stage six to Sagunt.
The American crashed, chased back on a broken frame, and crashed again – and stopped for a puncture – but only lost 20 seconds to Vuelta leader Chris Froome (Sky). Van Garderen, who began the day second at 10 seconds, currently sits fourth overall at 30 seconds.
"When you receive the information that a rider has crashed over race radio, you need to stay calm because after a crash it's normal that a rider will be nervous but you need to stay calm and talk slowly with the guys," BMC sports director Yvon Ledanois said.
Ledanois called van Garderen over the team radio when he heard about the crash at 37.1 kilometres to race.
Van Garderen said, "It's OK, I'm going" as he remounted his bicycle and took off to chase the leaders. He had been riding away alongside Froome in the slipstream of Alberto Contador's attacks.
When Ledanois caught up with Van Garderen, he ordered him to stop right away.
"I saw that the frame was broken and he was descending on it, so we said, 'Stop now stop now!' And we changed the bike."
It seems almost impossible to imagine that van Garden limited his damage to 20 seconds. However, because of Contador's violet efforts, many star riders were behind him when he crashed and remounted.
"In the next kilometres, I told him, don't worry that we would assess the situation after the descent. After the descent we looked at the gaps to the Froome group and thought about the plan," Ledanois continued.
"Nicholas Roche was in the front for us and he wasn't pulling and just staying in the wheels. In the group with Tejay, there were Steven Kruijswijk, Wout Poels and different teams were pulling. So it was not bad. Trentin was also there trying to pull David De La Cruz back."
Van Garderen whirled away on his trainer nearby this morning before stage seven. He smiled and looked over and made a joke. After stage six his mood was quiet different when he arrived to the bus on Roche's spare bike with his jersey ripped to pieces.
"He was unlucky yesterday because he had a puncture as well with five kilometres to go. His other bike was broken so he had to take Nicholas Roche's bike. It's more or less the same size and for three kilometres, is not a problem."
Watch: Vuelta a España stage six highlights
At that point, on his own, van Garderen worked his way through the slipstream of the team cars to re-join. The television never showed any of his chase and only flashed his time once, when was 1-12 minutes behind. When it did finally show him, he was sliding and falling while going around a roundabout.
"Everything was not bad given the bad circumstances. Only losing 20 to 30 seconds was fine. The most important thing yesterday after the first crash was that he had a group going and working. If no one worked with him then it would be a problem. If this is the worst day in the Vuelta for him, then we will take it."
Some may think that sticky bottles or magic spanners could have helped van Garderen re-join so quickly. Ledanois explained that they played by the rules.
"We respect the jury. I don't want our riders holding on to the cars. And we don't fix his bike as he's going along beside the car," added Ledanois.
"We have to respect the race because everybody remembers Vincenzo Nibali and team Astana from 2015.
"Tejay understands this and stayed group. And look at him today he's in a good mood smiling."
Thank you for reading 20 articles this month* Join now for unlimited access
Enjoy your first month for just £1 / $1 / €1
*Read 5 free articles per month without a subscription
Join now for unlimited access
Try first month for just £1 / $1 / €1