Twitter reacts to Vincenzo Nibali's Vuelta a España disqualification
Vincenzo Nibali got chucked off the Vuelta a España for clinging on to his team car on stage two, and Twitter was its usual unforgiving self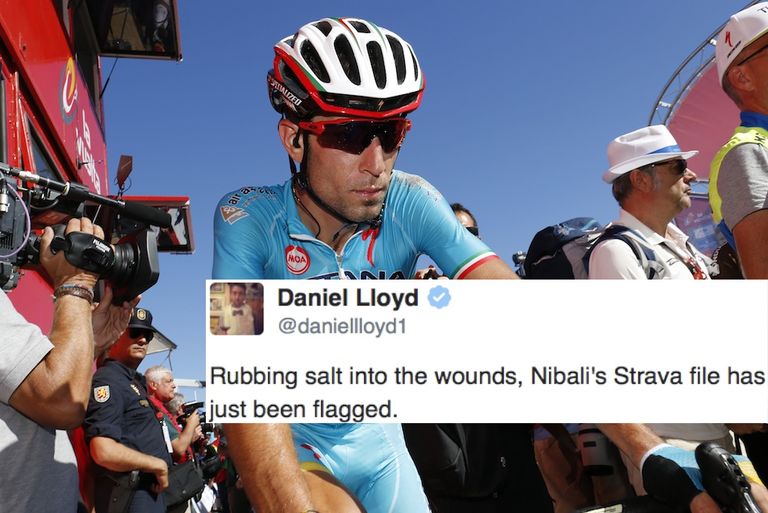 (Image credit: Yuzuru SUNADA)
The Vuelta a España jury took a dim view of Vincenzo Nibali's use of his team car to help him back to the main bunch after a crash - ejecting the Italian from the race for taking a tow.
While Nibali and Astana protested that this kind of thing happens all the time - which it almost certainly does - rules are rules and the 2014 Tour de France winner had to pack his bags.
If he wanted to find a little compassion for his plight, it's probably best that he stayed away from Twitter, where the initial shock was followed by some not-so subtle mocking. Here are some of the best tweets.
1. The Bristol Bike Centre start things off with this cracking meme.
2. Richard Moore's reaction was shared by everyone who heard about the DQ before they saw it. You can watch the video here.
3. Eurosport's Carlton Kirby, who was commentating on the race, joked that Nibali ought to be commended for holding on to the car in tricky circumstances.
4. Kirby's co-commentator Dan Lloyd made this excellent gag...
5. While Daniel Friebe recalled this incident from the Tour de France.
6. The Race Radio trawled the photo archives for this cracking picture. The jury must have been busy after this one.
7. Nibali will undoubtedly be cursing the use of helicopters to record footage of the race.
8. While John Scripps makes this very valid point.