Ride as many Haute Route events as you like for one annual fee with new Infinity Pass
Entry to 13 different trips for less than the price of one 7-day experience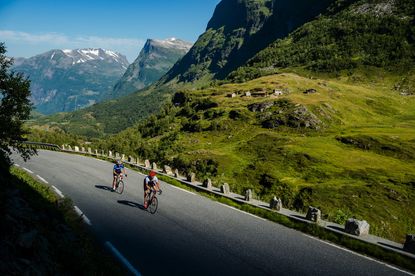 (Image credit: Destinasjon Ålesund & Sunnmøre)
Promotional feature with Haute Route
Haute Route has announced its new Infinity Pass which gives riders unlimited access to as many events as they wish to embark upon.
The multi-day cycling events company gives amateurs a pro-experience with the likes of luggage transportation, massages and well-stocked feed stations as well as photography and video at selected events.
>>> Haute Route: a life-changing experience
The company now offers 13 different trips exploring a host of the best riding locations around the world, and the new pass allows entry to all of them.
Exclusive limited edition passes available to early birds will cost less than the price of one regular entry to a 7-day experience.
Available to use in 2019, the Infinity Pass will be introduced in three stages through 2018.
Phase one sees 50 passes available for €1250. After that, there will be 500 further passes for €1450 - which is still less than the cost of two regular entries to three day events.
The final option will cost €1750 - again only €50 more than entry to a seven day event.
Following the full introduction of the Infinity Pass, on Monday October 8, the company will open single event registration for all events.
Regular entries to three day events next year will cost €650 at early bird price or €750 later on whilst seven day events are €1450 and €1700 respectively.
>>> What it's like to ride a Haute Route event
For 2019, Haute Route has added events in Oman and Mexico. The former will lead riders through the Al Hajar mountain range and the iconic Jebel Akhdar, over three days in March.
The Mexican ride, in October 2019, will explore the best climbs of Valle de Bravo - one of the country's 'pueblo mágicos' (magic towns) which boasts pine and fir forests surrounding the hills and the legendary Lago Avándaro.
Rémi Duchemin, Founder and CEO of the Haute Route Cycling Series, said: "The Haute Route has been a pioneering force in the global endurance sports industry and the launch of the innovative Infinity Pass will cement our position as a leading player in amateur cycling.
"We felt compelled to take a leadership role in making our cycling experiences available thanks to our pricing model which is unprecedented throughout endurance sport.
"Cycling is now a truly worldwide phenomenon and we believe that the Infinity Pass will allow cyclists to experience exciting cycling events across the globe with the best value proposition in the market."
OFFICIAL 2019 HAUTE ROUTE CYCLING SERIES CALENDAR
March 1-3 Haute Route Oman Oman 3-day
May 17-19 Haute Route Asheville USA 3-day
June 07-09 * Haute Route Dolomites Italy 3-day
June 22-28 Mavic Haute Route Rockies USA 7-day
July 12-14 Haute Route Alpe d'Huez France 3-day
Aug 02-04 Haute Route Norway Norway 3-day
Aug 17-23 Haute Route Pyrenees France 7-day
Aug 23-25 Haute Route Utah USA 3-day
Aug 25 - 31 Haute Route Alps France 7-day
Sep 20-22 Haute Route Stelvio Italy 3-day
Sep 27-29 Haute Route San Francisco USA 3-day
Oct 4-6 Haute Route Ventoux France 3-day
Oct 18-20 Haute Route Mexico Mexico 3-day
Thank you for reading 20 articles this month* Join now for unlimited access
Enjoy your first month for just £1 / $1 / €1
*Read 5 free articles per month without a subscription
Join now for unlimited access
Try first month for just £1 / $1 / €1