Rowe and Thwaites ready for Euro Championships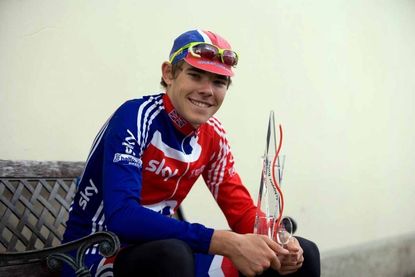 Luke Rowe and Scott Thwaites admit they're unsure how this week's European Road Championships (July 14-17) in Italy will pan out for the strong Great British team, nonetheless they're hopeful of a strong showing.
The pair will ride alongside Olympic Academy talents Tom Moses and Erick Rowsell, and the already established names of Jonny McEvoy, Andy Fenn and Joe Perrett in the battle for road race gold in Offida on Sunday afternoon.
However, Rowe feels the tricky course is not suited to the fastmen.
Speaking to Cycling Weekly, he said: "It's not one for the sprinters. I think it will be a whittling down kind of race.
"Tom Moses rode it at the Junior Worlds and he's told me a bit about it. There are a few climbs - one longer one and one which is more of a kicker. I think there will be about thirty or forty riders at the finish, but I'll give it a good go."
Rowe won two races last week as part of a three-day Euros preparation camp with members of the U23 squad, and he believes he is coming into good form just at the right time.
"I always start the season well, but I was ill just before the nationals," he said. "Now I'm coming up just right."
He also praised the preparation camp, saying that it can only be good for harmony within the team.
"I think the idea of the trip was for the team to gel," he continued.
"We work really well as a unit; we're going to be as good a team as you can be."
Thwaites ready to take a back seat

Riding his first road championships outside of Britain, Endura's promising youngster Scott Thwaites won't mind playing the role of domestique for Rowe.
"I'm not really sure what'll happen out there but I know Luke has been going well this year, and I'll be happy if I'm working for him," he told CW earlier this month.
Thwaites added: "I don't really know what to expect. It'll be a really good experience. I've done international mountain bike races, but this'll be my first one on the road."
ODP prospects Grant Ferguson and Matt Holmes are riding in Saturday's 124km junior men's road race.
Time Trial
Joe Perrett is one of three Brits taking part in the men's under-23 time trial, along with Andy Fenn and Erick Rowsell.
Two years ago Perrett, who finished third in May's National 10, took gold in the Junior Men's TT in Hooglede, Belgium, having been the only rider under the 35 minute mark.
Perrett will hope to emulate Alex Dowsett (Team Sky), who bagged gold in the under-23 event twelve months back.
A few hours before the men compete for glory, Hannah Barnes will look to add yet another victory to her rapidly-growing palmares in the junior women's time trial.
Barnes has taken both the junior women's National 10 and 25 titles this year and, having scaled back her racing schedule following the Women's Tour Series, will be hopeful of more success in Italy.
2011 European Road Championships: Great Britain team
Under-23 men's road race
Andy Fenn
Jonathan McEvoy
Tom Moses
Joe Perrett
Luke Rowe
Erick Rowsell
Scott Thwaites
Under-23 men's time trial
Andy Fenn
Joe Perrett
Erick Rowsell
Junior men's road race
Grant Ferguson
Matt Holmes
Junior women's time trial
Hannah Barnes
2011 European Road Race Championships: Schedule
Thursday 14 July 2011
10:00, Time trial, Under-23 women, 15.1km
14:00, Time trial, Junior men, 25km
Friday 15 July 2011
10:00, Time trial, Junior women, 15.1km
14:00, Time trial, Under-23 men, 25km
Saturday 16 July 2011
09:00, Road race, Under-23 women, 69km
14:00, Road race, Junior men, 124.2km
Sunday 17 July 2011
09:00, Road race, Junior women, 124.2km
13:00, Road race, Under-23 men, 179.4km
Thank you for reading 20 articles this month* Join now for unlimited access
Enjoy your first month for just £1 / $1 / €1
*Read 5 free articles per month without a subscription
Join now for unlimited access
Try first month for just £1 / $1 / €1