Ryder Hesjedal: In the news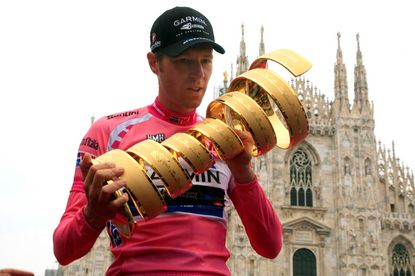 Forget winning a Grand Tour. Simply finishing one used to be Ryder Hesjedal's big challenge. At his first Giro d'Italia in 2005, he made it two weeks. On the day that then-teammate Paolo Savoldelli took the leader's jersey, the Canadian abandoned.
"It was a struggle every day. I wanted to be in the race and do something to help the team, but it was just survival. Huge, huge mountains..." he trailed off to sister magazine Cycle Sport in January last year.
It was another three years till he even finished a Grand Tour, the 2008 Giro. While the race held a certain mystique for Hesjedal, with its passion and punishing route, he needed some talking round when Garmin team managers first suggested, last November, that he tackle the race as sole team leader.
Hesjedal backed himself, as did teammates, but observers, rivals and bookmakers - and congratulations to any gimlet-eyed gamblers who put money on Hesjedal pre-race, at 50-1 - underestimated the Canadian.
Hesjedal had the form and growing confidence, as he kept up with the leaders in an attritional Giro. When the Giro hit the biggest climbs of the Dolomites in the final week, he refused to buckle.
You don't get theatrics or selfishness with Hesjedal: he is as level-headed and languid as professional sportsmen come. During the season, he keeps a low profile as one of the many English-speaking professional cyclists in the Spanish hub of Girona; come winter, he spends months training on the tropical Hawaiian island of Maui. Although neither his cycling style nor personality pings with panache, this Ryder is all about resilience.
He could keep plugging away up a never-ending mountain with the same doggedness and thousand-yard stare. Hesjedal's selflessness and determination was perhaps best epitomized in the 2009 Tour de France team time trial around Montpellier. Garmin were staring disaster in the face, down to five riders early on.
The weakest time-triallist of the quintet, Hesjedal clung onto his teammates' wheels for 20 kilometres to be the team's counting member. It was a ride of pure guts and determination. Garmin finished second that day, a result that was important to Bradley Wiggins's eventual fourth place.
Time-trialling is another key area that has since significantly improved for Hesjedal.He worked for two years with sports scientist Robby Ketchell on a more aerodynamic time-trial position. The modifications could easily have forged that 16-second overall winning margin over Joaquim Rodriguez in the final time-trial around Milan.
Geographically and culturally, that bustling capital of fashion is a long way from Victoria and Hesjedal's humble mountain bike beginnings on twisting forest trails. Part of a strong Canadian off-road tradition, cross-country bike racing was his calling as a youngster. Hesjedal was an U23 and elite world championship silver medallist, set on victory at the 2004 Olympics. But early during the race in Athens he crashed into a rock, hidden by dust. That dream - and his mountain biking career - was over.
On drop handlebars and skinny tyres, it was a tough battle to transfer his physical potential into results. Hesjedal had middling results with Discovery Channel and Phonak, returning to the US with Health Net in 2007. Back in Europe with Garmin the next season, Hesjedal found balance and a home. Gradual development led to his revelatory showing at the 2010 Tour de France, finishing seventh overall. Now, Hesjedal is no longer that surprise package or a revelation. Those huge, huge mountains and rivals conquered, nobody will ever underestimate Ryder Hesjedal again.
THEY SAY: Tyler Farrar, Garmin-Barracuda
"I had a hunch he'd be up there, but to win is amazing. He never said he thought he could win it. Maybe he believed it himself, internally. He did everything right. I think this is Garmin's biggest win yet."
THEY SAY: Charly Wegelius, Garmin-Barracuda directeur sportif
"Ryder is super relaxed. Socially, he's not the leader of the group. He was walking around the Giro with his flip-flops on.
"He has tactical weak points and [team-mate] Christian Vande Velde was really helpful as the nagging voice in his ear, helping him from switching off and becoming a victim of his own relaxation.
"Honestly, pre-race, I didn't think winning was possible. But it's always been in him; he was well placed in the Tour. The Giro is eighteen rounds, a slugging match. He won by not cracking."
HE SAYS: Ryder Hesjedal
"Right now I'm still enjoying winning the Giro. I'm proud, honoured and humbled by it... I had always planned for the Giro-Tour-Olympics this year. To be leader for the Tour opens up the next door to the story."
FACTFILE
Ryder Hesjedal
Date of Birth: 9 December 1980
Victoria, Canada
RYDER'S BIG RESULTS
2003 - Mountain bike cross country elite world championships, second
2009 - Vuelta a España, stage win
2010 - Amstel Gold Race, second, Tour de France, seventh overall
2012 - Giro d'Italia, first overall
DID YOU KNOW?
- He suffers from pollen allergies, which hampered his hilly Classics campaign in 2011.
- His surname Hesjedal - pronounced hedge-daal - has its origins in Norway.
- Hesjedal was thirteen minutes down on Cadel Evans before the first mountain stage of the 2011 Tour, after two crashes in the opening week of the race.
Thank you for reading 20 articles this month* Join now for unlimited access
Enjoy your first month for just £1 / $1 / €1
*Read 5 free articles per month without a subscription
Join now for unlimited access
Try first month for just £1 / $1 / €1