Snapped cranks, motorbikes and decade-old handlebars - breaking sprinting's oldest world record
Jeffrey Hoogland is going after the longest-standing record in track cycling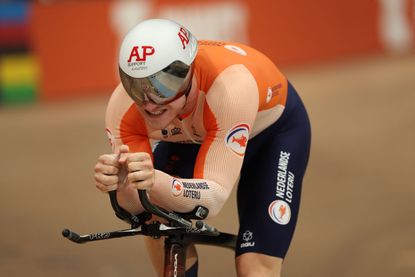 (Image credit: Getty Images)
Today, Dutch track sprinter Jeffrey Hoogland will try to break the world record in the one-kilometre time trial, the event familiarly known as the kilo.
It is the longest-standing record in track cycling, with the current best time, 56.303 seconds, held by France's François Pervis since 2013. Over the past ten years, no-one else has come close.
Now, though, Hoogland fancies his chances. So does the sprinter's national team coach, Mehdi Kordi, who told Cycling Weekly the feat would be the "final jewel" in the Dutchman's crown.
"It's the last remaining challenge for him to become the best-ever kilo rider in history," Kordi said of the four-time World Champion in the event.
This year, Hoogland is the only person to break the 58-second barrier, doing so twice at sea level; once at the European Championships and then again at last month's UCI World Championships. Going for the world record, which he'll attempt at altitude at Aguascalientes in Mexico on 31 October, seemed the logical next step.
"The preparation has been quite intense and leaves zero room for error, because of the timescale between Worlds and the event itself," Kordi said. "I think he had four or five days off and then he was back on it."
The idea was hatched some eight months ago. Since then, planning has been rigorous.
"There has been quote unquote science behind it," said Kordi. So far, this has been centred on wind tunnel testing with a mannequin, time trial position tune-ups, and skinsuit adjustments with national team supplier AGU.
Still, not all of the technology used will be state-of-the-art. "Jeff is quite a strong person," his coach explained. "He has broken a lot of cranks and chains. One of the main things is trying to get something sturdy enough, so a lot of the handlebars that we've experimented with, he's too strong for them, and they snap off.
"We've got like a 10-year-old TT bar, because that's the only one that can survive his strength."
The cost of the entire project is said to be in excess of €65,000, with funding coming from various sponsors, such as Nederlandse Loterij, financial consultant AP Support and Yamaha - "the motorbikes!" Kordi laughs.
Thanks to the support, in just over a month's time, Hoogland will travel to Mexico to ride four laps of the velodrome, as fast as he possibly can.
The original hope was to do it in La Paz, Bolivia. The velodrome at Cochabamba is at higher altitude but, according to Kordi, "the bricks are falling down out of the roof, and it's about to crumble any minute".
Once in Mexico, the track science will continue. When Pervis set the current record in December 2013, he did so in a race situation, with another rider on the other side of the track. This gave the Frenchman a significant drag advantage, which Hoogland's team will seek to emulate.
"We can get a derny or a motorbike or cyclists [on the track] up until the countdown, swirling the air around," Kordi explained. "That's what we'll try to do anyway."
As for pacing, the kilo is not as complicated as other cycling challenges, like the Hour Record. "The strategy is to go out like a bat out of hell and hang on for dear life," Hoogland's coach explained. "We're hoping for Jeff to hit 78kph, and then it's all about trying to manage the fatigue, which is down to gear choice.
"There's a trade off for that. With a bigger gear, you don't start off fast enough, but if you go for a lighter gear, you can start off too quickly and rev out."
What time does Kordi think Hoogland will do? "All I care about is that he breaks the world record," he says. "I don't care by how much, whether it's a thousandth of a second, or four seconds. For me, him breaking that world record and cementing himself as the best rider is what I'm focused on."
Hoogland's kilo world record attempt will take place at 1pm (8pm GMT) in Aguascalientes, Mexico on 31 October. It will be streamed live at AD.nl.
Thank you for reading 20 articles this month* Join now for unlimited access
Enjoy your first month for just £1 / $1 / €1
*Read 5 free articles per month without a subscription
Join now for unlimited access
Try first month for just £1 / $1 / €1