Strava: the virtual clubrun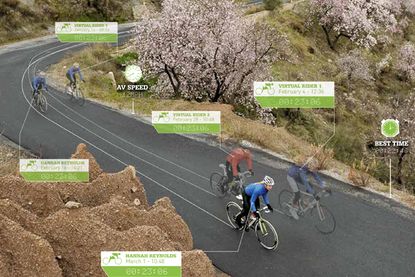 Virtually all modern life can now be conducted on-line; business conferences, shopping, study, even friendships and dating.
Thankfully bike riding still, in the main, takes place in the real outside world of fresh air and tarmac but even here the virtual world still surrounds you thanks to the various GPS training and social networking tools available.
Strava originated in the U.S where it has rapidly gained in popularity, 1000's of riders are creating and sharing rides using GPS from a Garmin, i-phone or Android phone and competing for the fastest times on Strava segements, set stretches of varying where the times of riders are ranked against each other.
Strava is slowly spreading across the UK and many of the iconic European climbs are now Strava segments, in fact where ever you ride around the country there is a chance that at some point on your ride you will unknowingly be on a virtual race course.
Strava has really got into the psyche of competitive cyclists; there are Kudos points to earn on the toughness of your ride, you can check your "Suffer Score" based on your heart rate averages and most importantly you can compete with any other Strava riders over set segments in your local area. It is this community of competitive riders that has allowed Strava to leap ahead of other on-line tools such as map-my-ride or Endomondo.
How it works
Strava is free to use, you can either upload data from your Garmin or use the free Strava app for i-phone and android. At it's most basic data is presented as a map and graph showing your speed and altitude but also allows power, heart rate and cadence to be uploaded and analysed.
The fun of Strava comes when you start using the leader boards to see how you fare against other riders on the same segment. Any Strava user can create a segment and it's worth doing if only to top the leader board for awhile, to do this use your route map and simply select the start and finish line you want and give it a name.
Segments are all called King or Queen of the Mountains whether they are up hill, downhill or flat. They are graded from 4-1 depending on the difficulty of the climb, this is determined by Strava not by the person setting the segment.
When you go out on a ride you will automatically register a time for any segments you ride through, you can also use the website to search for segments in your local area to go and target. Your athlete profile allows you to keep an eye on how far you have ridden, how many personal bests you have collected and your ranking on the leader boards. This can be a very useful training tool if you record every ride you do.
As with Facebook and Twitter you can follow other riders, this means you can keep an eye on rivals training or see when your mate stages an assault on your prized KOM.



The race is on
Strava is less about organized, structured training and more about going out and smashing it. For some riders this has led to rapid fitness gains as instead of going out and riding steadily around a loop they now attack the segments and ride easy in between, a bit like doing intervals or fartlek.
On the downside it can mean riding too hard, too often, "Every ride is a Strava ride" is becoming a frequently heard phrase, CW designer Ben Smith explains "For me its turned every ride into a race and for that reason I'm sure my fitness has improved but I don't use it to log all my rides I only use it when I feel up to setting a time."
This is a sensible approach to take as otherwise it can become both physically and mentally wearing. You wouldn't race every day and as Strava time setting is essentially a race effort you need to either switch it off or use it to log your rides and not worry about your ranking every time you ride.
As more people join Strava the competition heats up and the number of segments across the country will increase. At the moment there are hot beds of action around well-known cycling destinations such as Box Hill and areas near to cycling clubs as often when one rider gets into it they bully and cajole their friends to join.
This was the case for Rob Hoyles who was persuaded into Strava by the enthusiasm of a friend and rapidly got hooked himself, "I'm fairly (very) competitive so where there's a challenge there's always a bit of extra effort so I guess it will help my fitness. The Strava segments are excellent and a great way of comparing your speed and fitness with others - particularly if you tend to train alone quite a lot."
This is a really valid point as not all riders belong to clubs or due to circumstances may frequently train on their own. While the gratification may be delayed until you get to your computer ousting a mate from the KOM leader board is as satisfying as winning the sprint to the café or racing your mates to the top of a hill on the club run.
Strava has helped stir latent competitive instinct in all kinds of riders, Danny Milner, deputy editor of our sister magazine Mountain Bike Rider admits that since using Strava he has "dusted off the lycra for an aero advantage, and virtually puked my guts up trying to beat the other office nodders", it turns out he's one of the best roadies in the office when the virtual flag goes down.
Who is on Strava?
Dean Downing - Rapha-Condor-Sharp
While on the Rapha-Condor-Sharp training camp in Benidorm, Downing logged all of the camp rides, allowing us an insight into the team's training. He also logs many of his UK training rides, including the infamous Caramel Slice run.
James McCallum - Rapha-Condor-Sharp
Not such a prolific user as team-mate Downing, but some interesting training camp stats.
Felix English - Rapha-Condor-Sharp
English has a fair few KOMs in the bag, including the 'Stanmer Park Bad Ass Speed Bump Downhill'; - testimony to some pro bike handling skills - and the top section of Olympic road race circuit Box Hill.
Katie Colclough - Specialized Lululemon
Manchester-based rider Colclough has been racking up QOM (Queen of the Mountain) points in Manchester and on training camps in Majorca.When Strava is running you are surrounded by competitive riders, strangers and club mates, for some riders though this can be it's draw back.
Chris Catchpole has only been riding 18 months, he found the competitive element detracted from his enjoyment, "I stopped using it. I found that I'm too competitive for my ability, so I'd just be annoyed that I was constantly slower than 90% of other people.
The other problem is that I stopped enjoying riding to work, because I'd spend the whole time killing myself just to improve on a certain hill or section. I enjoy my riding again now I closed my account."
There are a few other cautions to be aware of besides over training and addiction. As with all on-line communities you have a degree of control of your security settings and you should be particularly careful to adjust Strava so that it doesn't record within a mile radius of your house otherwise your every route will be a trail to your front door for bike thieves or rivals looking to put a stick in your wheel.
Alternative on-line data sharing tools
Endomondo is a fantastic way of finding and creating routes, they can easily be downloaded directly to your phone so that you can share a wealth of local knowledge where ever you are.
As a site it works particularly well for exploring new areas but it lacks the social interaction and competitive element of Strava. There is a subscription to the lounge which is where you can make comparisons between your bench mark figures and those of other site users.
Mapmyride is another resource that works best for creating and finding routes as well as allowing interaction with other riders plus it runs sponsored challenges such as the current Asics challenge " Ride a Century in 30 days". This allows you to focus on your own personal improvements and while there is a forum and a news feed from other members completing the challenge you are not in direct competition with them.
Garmin Connect is a serious training tool for use with any Garmin product, it allows a highly detailed analysis of your physical data and creates detailed maps of your training routes. You can create goals and track your progress toward attaining them. All your data can be shared via twitter, facebook or Digg but you can also choose to keep it private.
The best thing to happen to cycling - Simon Smythe
"For me Strava is the best thing to happen to cycling since I've been doing it. It makes all your riding an ongoing time trial and makes your formerly boring commutes fun. If the wind is in the right direction and you've got good legs, it's as much fun to go for a KOM on a segment of your commute as it is to go racing at the weekend.
Being able to create segments is an important part of it - you build up a portfolio of KOMs and enjoy the satisfaction of seeing your name at the top of the leaderboard as other people attack your times. Part of the fun is that you don't know most of the people on the leaderboard.
Were they just tapping along when they set their time and are they actually going to try hard tomorrow and take your KOM off you?
Following people and them following you - even if you don't know each other - and the fields for commenting on leaving Kudos makes it a sort of Facebook for cycling. It's another social network but a more focused one.
I'm not sure whether, on its own, Strava can improve your fitness, but it's good for recording precise details of a training ride or a race. Best of all, it's a great motivational tool. People joke about it being bad for your riding, because you 'go for a time' every time you're on a segment, but actually you don't.
If you know that weather conditions aren't favourable for an attempt, you don't bother. Having a tailwind is crucial if you want to improve on a segment you've ridden a lot."
How Strava ruined my cycling - Matt Andrews
"It's a cold, crisp Saturday and I'm looking forward to a steady ride. So I'm confused when, a few miles in, as I approach a hill, I begin to feel nervous. It's not the hill itself; I've ridden it many times before. But today I have that feeling you get in a road race when you reach a point where you know the hammer will go down.
Why do I feel like this? It's ridiculous. Then I realise - it's Strava's fault. Thanks to Strava, I know that my best time for this hill is four minutes and I'm just outside the top 10 on the leader board.
What should have been a gentle climb has turned into a grim, painful battle. Legs burning, lungs on fire, I crest the hill, sure I've smashed my pb and catapulted myself into the top three. I spend the next half-mile recovering (OK, it's a whole mile) and contemplate my achievement.
Back at home I upload the Garmin data and am crushed to find, far from destroying my pb, that I was actually three seconds slower and that someone else has posted a faster time and pushed me further away from the top 10.
What's worse is that some Strava users have created three segments on my commute. I find myself arriving at work red-faced and dripping. Why? Why do I care that other riders have ridden the 'K2 drag' in Crawley faster than me? I don't know, but it's ruining my cycling."
This article was first published in the March 1 issue of Cycling Weekly. You can also read our magazines on Zinio and download from the Apple store.
Thank you for reading 10 articles this month* Join now for unlimited access
Enjoy your first month for just £1 / $1 / €1
*Read 5 free articles per month without a subscription
Join now for unlimited access
Try first month for just £1 / $1 / €1
Founded in 1891, Cycling Weekly and its team of expert journalists brings cyclists in-depth reviews, extensive coverage of both professional and domestic racing, as well as fitness advice and 'brew a cuppa and put your feet up' features. Cycling Weekly serves its audience across a range of platforms, from good old-fashioned print to online journalism, and video.