Tour of Beijing faces smog and police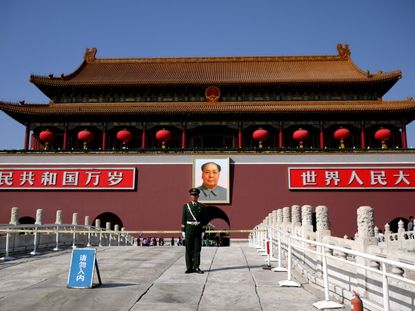 The Tour of Beijing celebrated its first ever stage on Wednesday. The opening time trial was affected slightly by smog and the government's policing.
"You don't think about [the smog] in the race, but when you stop, you realise just how much your lungs are burnt," Nicolas Roche told Cycling Weekly. "Feels like smoking cigarettes? Probably, and a lot of them."
The first stage, a time trial, travelled around the Olympic Park just north of the city centre. Smog, which has thickened over the last two days, is similar to what was seen at the 2008 Olympic Games in the city.
Tony Martin won the 11.3 kilometre opening time trial stage at an average of 50 km/h, compared to the longer 46.4 kilometre course and 51.8 km/h he achieved to win the World Championships time trial in Copenhagen in September.
"I felt it more so yesterday than today," Alex Dowsett said. "I think it was because yesterday [in training] was the first time that I did an effort in it."
From the iconic Bird's nest Olympic stadium, buildings further away seemed to be fading or were completely greyed out.
"It makes breathing pretty hard," added Jack Bobridge. "We are all breathing the same air, though, is the same playing field."
"I grew up in Hong Kong," David Millar explained. "I love the Far East and I guess I have that advantage in that all this doesn't bother me. It's my natural habitat!"
As the race travels north for the next stages, conditions will improve. However, back in Beijing for Sunday's stage from Tian'anmen Square, the smog will return.
Security is expected to be just as heavy over the next days, especially on Sunday in Tian'anmen Square, site of the 1989 anti-government protests. Police shut down the surrounding area and required fans to pass through metal detectors on Wednesday.
Only a limited number of fans, though, were allowed to get near the course as it seems the government is worried about large gatherings. It is a reminder that the cyclists are in a communist state where social networking websites, such as Facebook and Twitter, are blocked.
"I haven't seen many [fans] yet because we've been in our hotel and we're kind of in the middle of nowhere," Millar said. "It seemed like there was some good cheering out there from what I could hear."
The stage tomorrow travels north of the city and towards the Great Wall, to Mentougou.
Related links
Tour of Beijing stage one: Martin holds off British charge to win Beijing time trial
Tour of Beijing: A step forward for cycling?
Team Sky get ready for Tour of Beijing
Thank you for reading 20 articles this month* Join now for unlimited access
Enjoy your first month for just £1 / $1 / €1
*Read 5 free articles per month without a subscription
Join now for unlimited access
Try first month for just £1 / $1 / €1