Tweets of the week: Chris Froome compromised, Thomas De Gendt on the beers, and more
What better way to spend your finite time on this Earth than burning your retinas out with the utter drivel found within the dumpster fire of Twitter dot com?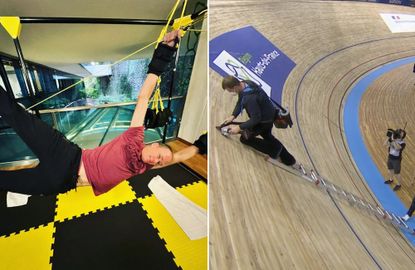 (Image credit: Getty)
If you were in any doubt as to whether the off-season had started yet, you just need to cast your eye over social media to see Nathan Haas and Alison Jackson dancing and Chris Froome trapped in an assortment of ropes that we hope is acceptable for a pre-watershed audience.
Oh, and Thomas De Gendt is spending his time drinking every single one of the beers.
1. Yep, it's the off-season alright
2. A very normal sport
3. People do say Chris Froome's aim to win a fifth Tour title is a bit of a stretch
Feeling a foot taller today 🤣 #pravilo #stretching pic.twitter.com/itX1Qbh8qcOctober 22, 2021
See more
4. Never forget
1 year today since Giro rain jacket-gate on the Stelvio 😅October 22, 2021
See more
5. Reasons to not be a time triallist no. 4653
Whilst every pro seems to be off to the Maldives, I'm here, on my TT bike, doing over unders, up where the air is thin. Life choices have bought me to this point 😂I wouldn't change it for the world, though I feel as though Chanel might 😅October 19, 2021
See more
6. Is...is Nico Roche throwing his hat in the ring to be the new Bond?
Congrats to @NikiasArndt & Glenda on there weeding! Cheers to the spouses 🍾 pic.twitter.com/QGAxD1WkS6October 17, 2021
See more
7. This is probably how Cardiff is spelled in Welsh
8. Thomas De Gendt living like an undergrad at Leeds Met
When the beer fridge is empty and you want to fill it up again but see this sad sight. pic.twitter.com/Suje8B0eTIOctober 16, 2021
See more
9. G, take a look at the image at the top of this article, get me the job lad
10. Bauke Mollema's been racing with half of Ikea in his wrist
Had surgery on my wrist yesterday to remove this plate and screws. All went well and I should be able to restart training normally in a few weeks 👌. #offseason pic.twitter.com/Wt5VQpkoK9October 15, 2021
See more
Thank you for reading 20 articles this month* Join now for unlimited access
Enjoy your first month for just £1 / $1 / €1
*Read 5 free articles per month without a subscription
Join now for unlimited access
Try first month for just £1 / $1 / €1