Tweets of the week: Mikel Landa becomes a meme and how small a couch is too small?
Marlen Reusser gets political and Megan Jastrab is delighted to make an echelon, in our social media roundup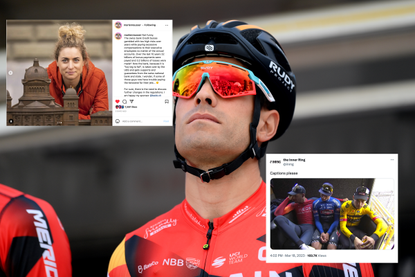 (Image credit: Getty Images)
It is only the end of March, but already the image of the year might have been taken. At the end of a historic edition of Milan-San Remo, the race's podium were led backstage before the presentation, to be shown the world's smallest couch to sit on.
Wout van Aert, Filippo Ganna and Mathieu van der Poel all sat cheek to cheek to cheek on a seat clearly designed for two not three. I suppose they were all pretty exhausted after 300km of riding, but could they not have found another seat for such an event? Or could not one of them have stood?
In the end, this is what happened, with Van Aert standing up and Ganna and Van der Poel immediately entering into conversation once the moody Belgian had walked away. Perhaps the couch should have been left for the winner - in this case Van der Poel - and the others get single chairs.
Do RCS have such little budget that they can only get one IKEA piece of furniture at a time? I wonder how awkward it was when they all plonked themselves down. Or maybe they are all used to being so close in the bunch that it doesn't matter.
Anyway, also this week we have Mikel Landa becoming more of a meme than a bike rider, Marlen Reusser getting politics, and Giulio Ciccone flinging his sunglasses off at sign-on.
1. Booking the coach home was a bad idea, they never give you the right legroom, and you end up being too close to someone you don't get on with
2. If I were Kasper Asgreen, I would have kept riding through San Remo until I reached 300km. So unsatisfying to finish on 299km
3. Forget the Cairo leg of the UCI Track Nations Cup, Blaine Davis and Emma Finucane were just in Egypt for the camels. Good reason, I suppose
4. Remco Evenepoel, not just one of the top riders in the world right now, world champion and Vuelta a España winner, but infamous hat stealer
Sickening, but not unexpected behaviour from @EvenepoelRemco, earlier today he stole a child's hat pic.twitter.com/8MUT9xvIobMarch 20, 2023
See more
5. Geraint Thomas is clearly ware of Remco's reputation
Ahhh @EvenepoelRemco, we meet again 👀🤣 #littlebastard pic.twitter.com/p0HxjSsVV4March 20, 2023
See more
6. If you are trying to keep up with the best riders in the world, probably watch where you are going otherwise you will end up in as embarrassing a situation as this guy during the Classic Brugge-De Panne
"Ne courez pas à côté des coureurs" pic.twitter.com/rJZvFmAZUaMarch 23, 2023
See more
7. Speaking of Brugge-De Panne, is Belgium the only country in the world where the cycling infrastructure is big and impressive enough in order to support a whole bike race?
I love a bike race on bike infrastructure big enough for it pic.twitter.com/NhOKo4pnMEMarch 22, 2023
See more
8. His stage win at the Volta a Catalunya was too tight to let him throw his glasses to the crowd earlier this week, so Giulio Ciccone had to chuck them into the few people gathered at the next day's start. Not quite as good
There was no time for @giuliocicco1's trademark celebration yesterday but we couldn't NOT do it 🫶🕶️ #VoltaCatalunya102 pic.twitter.com/GkcwVUF1BXMarch 22, 2023
See more
9. Has Mikel Landa become... self-aware?
I am beginning to think that Mikel Landa's main aim is to be a meme. https://t.co/Mq31MXsc8kMarch 21, 2023
See more
10. Most professional cyclists use their Instagram to post arty photos of them racing, but Marlen Reusser wants to talk about the Swiss banking system. Fair play
11. Finally, the honesty of Megan Jastrab was great to see. She did an echelon!
Second time riding echelons went a lot better than the first one last year 😅 https://t.co/R99m8W1tpTMarch 23, 2023
See more
Thank you for reading 20 articles this month* Join now for unlimited access
Enjoy your first month for just £1 / $1 / €1
*Read 5 free articles per month without a subscription
Join now for unlimited access
Try first month for just £1 / $1 / €1