Tyler Hamilton's book wins William Hill award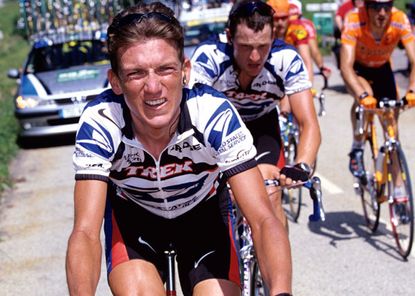 Tyler Hamilton and Daniel Coyle's tell-all doping exposé, The Secret Race, has won the 2012 William Hill Sports Book of the Year award.
Former professional cyclist Hamilton and author Coyle used The Secret Race to lift the lid on the doping practices that they allege took place in the late 1990s and early 2000s in the US Postal team of Lance Armstrong.
The award was announced on Monday afternoon during a lunch hosted by broadcaster John Inverdale at Waterstone's bookshop in Picadilly, London.
Hamilton's book has shocked many in the cycling world. Although the history of doping practices within cycling are well documented, the explicit way in which Hamilton describes the cynical methods that he and other professional cyclists used to dope and evade detection has been a revelation.
"The mysterious world of cycling holds a certain fascination in the public consciousness - now more than ever following the recent home-grown success in the sport," said William Hill spokesman Graham Sharpe.
"The Secret Race lifts the lid on that world and delivers a shocking and jaw-droppingly frank account of what it's like to compete at the highest level."
Hamilton was a central part of the US Federal, and subsequent United States Anti-Doping Agency, investigation into allegations of organised doping in Armstrong's team during his seven Tour de France wins, from 1999 to 2005. Hamilton was a team-mate of Armstrong's from 1999-2001.
USADA concluded that Armstrong did indeed dope, and stripped the Texan of all seven Tour victories. Several other former team-mates - including Hamilton - and team staff have also been served sanctions. The removal of Armstrong's Tour titles was later accepted by the sport's governing body, the Union Cycliste Internationale (UCI).
Ironically, the last cycling book to win the award was Armstrong's autobiographical It's Not About the Bike in 2000. Prior to that, Paul Kimmage's seminal omerta-breaking Rough Ride was the first cycling book to claim the coveted prize in 1990.
Hamilton and Coyle's book beat six other shotlisted titles. The pair will receive £24,000 in cash among other prizes.
Related links
Book review: The Secret Race, by Tyler Hamilton
Hamilton to officially lose 2004 Olympic gold
UCI accepts USADA ruling and strips Armstrong of Tour wins
Thank you for reading 20 articles this month* Join now for unlimited access
Enjoy your first month for just £1 / $1 / €1
*Read 5 free articles per month without a subscription
Join now for unlimited access
Try first month for just £1 / $1 / €1