UCI attempts to block USADA Armstrong case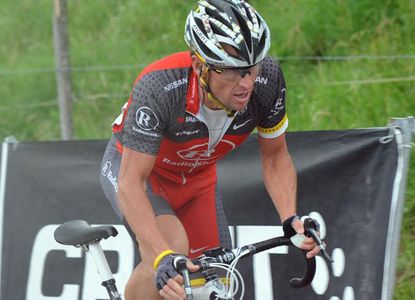 Get The Leadout Newsletter
The latest race content, interviews, features, reviews and expert buying guides, direct to your inbox!
Thank you for signing up to The Pick. You will receive a verification email shortly.
There was a problem. Please refresh the page and try again.
In another twist to the ongoing saga of the United States Anti Drug Agency (USADA) and its case against Lance Armstrong for doping violations, cycling's governing body, the UCI, has intervened. In a surprise move, the UCI claims that the USADA has no jurisdiction in the case. Furthermore, the UCI says that the USADA has failed to follow due process since charging Armstrong with doping offences in June 12 of this year.
This followed the failure of a 20-month long Food and Drug Administration investigation to produce evidence that would have led to a court case against seven-time Tour de France winner, the case was believed to have fizzled out in January 2012, leaving Armstrong's Tour record, if not his reputation, untouched.
However, although the evidence gathered by FDA special agent Jeff Novitzky wasn't considered strong enough to indict Armstrong on charges of fraud and misuse of US government funds (when his team was sponsored to the tune of $32 million by the US Postal service between 1999 and 2004), the witness statements Novitzky gathered were picked up by the USADA, which has used the FDA evidence as the basis on which to charge Armstrong.
While the FDA inquiry may not - and the grand jury was closed down in controversial circumstances - have collected strong enough evidence to pursue Armstrong for fraud, sports doping isn't a federal offence and was not, therefore, central to the FDA investigation. The evidentiary strength required by USADA for claiming that doping took place is different from that required by the US grand jury for fraud.
In June, a leaked USADA letter revealed that there were no fewer than 10 eye witnesses who had gone on the record with evidence of doping practices. These testimonies, allied to what the USADA claims are abnormal blood profiles, form the basis of the case against Armstrong. While there has been much speculation about who those team mates and staff were who have given evidence were, no names have been confirmed.
And this forms one plank of the UCI's objections - that the witness statements and evidence have not been shared - thus compromising the legality of the USADA's position. In a letter released by the UCI, the president of the UCI Pat McQuaid said that it had jurisdiction over the people concerned and the USADA was, colloquially 'out of order.' In addition, in a letter to sent to the USADA on July 13, McQuaid claimed that "potential witnesses were approached by USADA and that advantages were promised in return for incriminating statements." While this may or may not be true, it is a more common practice in American law, particularly in complex cases of financial and banking fraud.
The UCI also claims that since the USADA evidence was gathered in UCI sanctioned events or is based on test findings over which the UCI has control and jurisdiction, the USADA has no authority to impose sanctions based on that information and test results.
Unsurprisingly, the USADA is not inclined to agree and its CEO, Travis Tygart, backed by USADA lawyer William Brock III, responded that the UCI had performed "an about face" since it had previously accepted that the USADA had jurisdiction in the case. In a letter to McQuaid, Bock wrote, "You were correct in the first media statements that you made in which you opined that USADA is the correct results management authority and can impose sanctions in these cases," and that those first statements "reflect a waiver of any right by the UCI to conduct results management in this case."
On a less than legal note, a clearly irked Tygart noted that putting the UCI in charge of the case "would be like the fox guarding the hen house."
So what will happen next? Both the UCI and USADA are both publicly talking about finding a third party to judge the evidence, which sounds like a way forward. However, with so much at stake for all parties concerned and tensions running high, a compromise may not be easy to reach. The UCI is keen to limit the third party investigation to focus solely on the Armstrong case, while the USADA favours a "Truth and reconciliation commission to clean up the sport of cycling for once and for all," which clearly has a much wider scope and would involve shining lights into dark places in the UCI's archives from the mid 1990s.
The one thing we can say for sure is that this case will not be resolved quickly.
Related links
Judge dismisses Armstrong lawsuit against USADA
Vaughters denies that Garmin team riders will be suspended by USADA
Armstrong attacks USADA for opening formal action against him
Armstrong banned from triathlons as new doping charge brought against him
February 4 2012: Armstrong holds off the law
Armstrong case dropped by US investigators
Armstrong investigation arrives in Europe
Armstrong's team mate Popovych testifies he did not witness doping
Armstrong's team-mate Popovych summonsed in doping investigation
Landis admits he doped and implicates others
Thank you for reading 20 articles this month* Join now for unlimited access
Enjoy your first month for just £1 / $1 / €1
*Read 5 free articles per month without a subscription
Join now for unlimited access
Try first month for just £1 / $1 / €1
Get The Leadout Newsletter
The latest race content, interviews, features, reviews and expert buying guides, direct to your inbox!