Waller Pain hill climb returns for 2011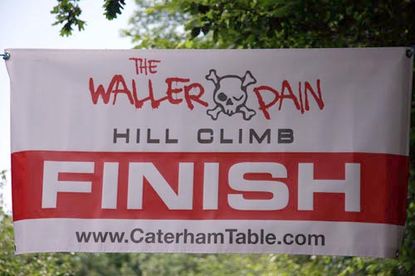 The Waller Pain hill climb in Caterham, Surrey, returns for a second year after a successful inaugural event last June.
Breaking with the tradition of hill climbs taking place in the autumn, Waller Pain on Sunday June 12 aims to attract every sort of rider from fit club regulars to 'fat dads' on mountain bikes. There's also a youth category for under-16s.
Riders face the ascent of Waller Lane from the centre of Caterham - it comprises 210 feet of climbing in 0.31 miles.
Last year's fastest time, and therefore an event record, was set by Hal Bransby of local club Addiscombe CC. Kelly Nugent of Clapham Chasers set the fastest women's time of 2-16, with Kristian Cave (VC Londres) clocking the best time in the under-16s category.
"It must be stressed that this is a fun event and open to all ages and abilities," said Clive Harper of Caterham Round Table. "Spectators are also encouraged to participate in the event by lining the route and cheering on the challengers."
Advance entry to the event is a very modest £4 for adults and £2 for under-16s. Entry on the line is also available, priced £5 for adults and £2.50 for under-16s. All participants will received a medal and goodie bag from organiser Caterham Round Table.
Registration opens at 10am, with first rider off at 11am.
You can download an entry form for the 2011 Waller Pain hill climb here.
Related links
Bransby wins inaugural Waller Pain hill climb
External link
Waller Pain hill climb website
Thank you for reading 5 articles this month* Join now for unlimited access
Enjoy your first month for just £1 / $1 / €1
*Read 5 free articles per month without a subscription
Join now for unlimited access
Try first month for just £1 / $1 / €1