If it ain't broke, make it even better - Ass Savers launches the Win Wing 2
This cheap but highly effective clip-on fender has been made stronger, gentler on the seat stays and in a highly requested all-black colorway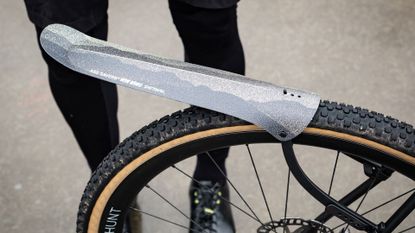 (Image credit: Ass Savers)
As someone who rides in wet weather a lot. I was a quick adopter of Ass Savers' line of cheap yet effective clip-on fenders (mudguards).
The Swedish company specializes in creating a variety of cleverly designed, simple, lightweight yet effective clip-on fenders for bicycles. They got their start in 2011 with a Kickstarter campaign that ultimately became the highly popular minimalist and portable piece of plastic that one wedges in between the saddle rails to, well, keep your ass save from road- and tire spray.
Last autumn's innovation, the Win Wing, was my favorite yet and became a staple on solo rides (because while the fender protect your butt, it doesn't do much for the face of the person riding on your wheel) and a must-have travel item for media trips where there'd be a chance of rain. This $27 fender consists of a 14.5-inch blade of polypropylene and a bracket (which the brand calls a "wishbone") that clips onto your bike's seat stays at the critical point where water and mud leave a spinning rear wheel, blocking it before it can reach your behind.
I say "was my favorite" because today, Ass Savers announced an updated version of the Win Wing, simply named Win Wing 2, with a promise of being stronger, gentler on your bike's paint job, and available in a much-requested all-black colorway, where both the blade and bracket are stealthy black.
"Redesigned to stand up to the toughest rides and roughest international postage handling, the Win Wing 2 features a reinforced wishbone frame. While the original wishbone was not particularly delicate, stronger is better and can keep riders enjoying their Win Wings for even longer," says the brand.
Like anything you strap to your bike frame, fenders have a tendency to rub at, and scuff, your bike's paint. The original Win Wing already hoped to minimize this with its rubber feet and snug, wiggle-free fit. The updated version takes the paint protection one step further with the inclusion of a set of clear polyurethane frame stickers.
Ass Savers said that its customer base consistently called for a stealthier Wing Wing, one in which the bracket, the straps and the blade were all black. The request was heeding in the offering of the Wing Win Stealth, an all-black blade, bracket and straps combo.
The Stealth version is only available while supplies last but the black bracket and straps will become a standard with all Win Wing 2 orders going forward.
Just like its predecessor, the Win Wing 2 is available in two sizes, the 64-gram Road with clearance for up to 35mm tires and the 72-gram Gravel with clearance for up to 60mm.
Thank you for reading 20 articles this month* Join now for unlimited access
Enjoy your first month for just £1 / $1 / €1
*Read 5 free articles per month without a subscription
Join now for unlimited access
Try first month for just £1 / $1 / €1