Of bike and body: The tale of how one Richard Sachs frame touched three lives
A celebrated framebuilder, a 1980s racer and her daughter connected by one 40-something-year-old bike frame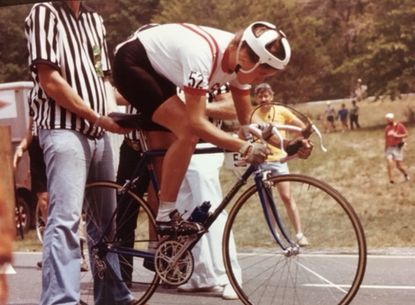 (Image credit: Margi Porter)
It was a sizzlingly hot day in Truckee, California. The early June sun made the road ahead stretch into goopy black taffy. Margi Porter (née Bethke) licked her lips, took one final inhale, then exhaled and assumed a tucked position atop the ramp she would blaze down.
Three, two, one. Ride!
It was the 1981 California State Time Trial Championships, a 40-kilometer race against the clock in which Porter would later claim a top-10 finish.
Her weapon of choice that day was a handcrafted Richard Sachs steed whose azure steel and sunflower yellow lettering glistened under the sun and sweat of the effort it took to cross the finish line.
"There was nothing but me and my Sachs [during that race]," said Porter. "We were a single machine; I powered it, it powered me. It was complete synergy: what we call 'flow.'"
Richard Sachs is among the best custom framebuilders in the world. His frames, which have changed little over the years, are known for their distinctive lugs and curved front fork, hand-welded seams and, of course, the "Richard SACHS" emblazoned across the downtube.
Sachs' entrance into the framebuilding world was a self-proclaimed "comedy of errors." Yet nearly five decades later, he still crafts each of his frames alone and completely by hand. And some 50 custom bikes make it into the hands of riders eagerly awaiting their classic "RS" bike each year.
The fine steel and lugs, a heritage from his starting days in 1970s England. Taking some time to explore between high school and college, a young Sachs found himself abroad working at Witcomb cycles, churning out bikes to be used as vehicles rather than high-end racing vessels.
"I was never tutored or mentored in making bikes. I simply came in every day and did what I was asked to do," Sachs said. "But, you know, if you stand around watching people do a craft for eight hours a day, six days a week, you learn a thing or two."
Image 1 of 7
Slideshow: The RS steed