'Go Jonas!' - A day at the Tour de France with Jonas Vingegaard's parents
Cycling Weekly joins Jonas Vingegaard's parents on the roadside in the Pyrenees to watch their son in action on stage five of the French Grand Tour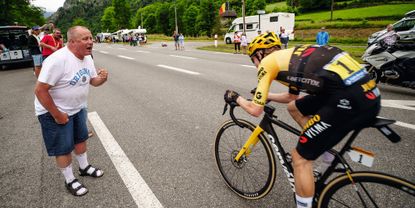 (Image credit: Tariq Mikkel Khan / Ekstra Bladet)
Get The Leadout Newsletter
The latest race content, interviews, features, reviews and expert buying guides, direct to your inbox!
Thank you for signing up to The Pick. You will receive a verification email shortly.
There was a problem. Please refresh the page and try again.
This feature originally appeared in the 13 July 2023 issue of Cycling Weekly magazine.

"He's doing it again," says Karina Vingegaard with tears rolling down her cheeks as she clasps her head in her hands. Karina and I, along with her husband, Claus, have just watched their son Jonas hurtle past us as he thunders down the valley road towards Laruns, putting serious time into his rival Tadej Pogačar as he attempts to defend the Tour de France title.

For me, for you, stage five was part of a journey that had begun less than a week ago. Or maybe, a journey that began a year ago when Vingegaard won his first Tour so emphatically. But Karina's moistened cheeks are a stark reminder that for her it's a journey that started well over a decade ago. It's impossible not to be moved by it.

Moments ago we sat quietly around their iPad screen enjoying an afternoon drink together as we watched the race unfold. Now the two people that had been calm, collected and relaxed a moment ago are leaping up and down and cheering.

"Go Jonas!" they both scream at the top of their lungs as their son speeds past within arm's length in a blur of Jumbo-Visma yellow and black.

"This is very, very good right now," says Claus as he punches the air with delight. He sips a celebratory cold lager, a huge smile spreading across his face as he turns back to the road to watch more riders tear past.

Just as they did last summer, Claus and Karina have travelled over from Thy in northern Denmark to follow Jonas' journey from Bilbao to Paris. Minutes earlier Jonas had launched his attack on the Col de Marie-Blanque, quickly pulling away from Pogačar and chasing down virtual race leader Jai Hindley.

Both Claus and Karina then sit and lean towards the screen, absolutely transfixed by what's going on a few miles up the road.
On the road in Laruns
"Talk me through how you're feeling?" I ask them as we watch Jonas thrash and throw his bike up the mountain, frantically trying to put as much time as possible into Pogačar before the summit of the climb arrives.

"My heart is beating and my stomach is just turning around and around," says Karina. "It's not stress, more excitement," she adds as she turns to her husband and they chatter away in Danish about what's occurring in front of them. Occasionally Claus tries to adjust the grainy pictures as it cuts in and out on an unreliable signal, broken up by the mountains that surround us.

To almost everyone who passes they're just another couple of fans at the roadside.

As I walk down from Laruns to meet Claus and Karina, I expect to arrive and find them surrounded by their son's supporters. Instead I find a big white campervan, complete with a Danish flag tied across the front with 'Vingegaard' emblazoned on it and two of the most welcoming, kind and hospitable people I've ever met.

Karina has tucked several smaller flags into the camping chairs that are dotted around a small table covered in the remains of an afternoon picnic. Much less obvious but more significant than the flags is the bike that I find strapped to the back of the van.
At first look it appears to just be a 'normal' Scott Addict but it seems familiar and I'm sure I've seen it somewhere before. That's because it's the same bike that Jonas is riding in a photo of him taking his first victory in Denmark's A-class category in Hammel which Claus sent to me just a few weeks previously. Now it's here in France with his parents.

Claus explains that he occasionally uses it to get out riding himself when he gets the chance. Before he settled down at the roadside, he went for a morning ride up the valley road to Laruns with none other than former Tour stage winner and ex Danish pro Rolf Sørensen.

"Jonas bought that bike when he was riding for Odder Cykle club," he says.

"He got that bike with money he'd earned himself when he joined them," Karina adds. "It was very expensive. His grandad taught him how to fillet fish and then he did that to make money to get the bike."

It dawns on me how wonderful it is that something so simple as a bike can carry so much family history, memory and meaning.

Claus's story reminds me of my own Specialized Allez, sitting in my parents' garage, which my own father occasionally takes out to ride. Claus's account of the bike shared with his son is no different to ours, and is just another tale of a father and son united by their shared love for cycling. The only difference is that young Jonas will have been far quicker than I ever was.
A childhood dream come true
In between watching the footage of the race on the screen in front of us, both Claus and Karina tell me that it's beyond surreal to be out at the Tour once more watching their son compete.

Both of Jonas' parents have followed his path to the Tour with the utmost devotion, encouraging him to have fun along the way. Karina explains that it's too hard to put into words exactly how much it means to see her son ride the French Grand Tour once more.

"I know that it's his dream from when he was a little kid," says Karina. "I love so much that it's come true. This is the only race that we come and watch as parents as it's difficult with Claus working in Norway regularly. We can't go and watch all of his races, it's just not possible. This is the best race of them all for us to be able to watch."

"It's the only one that he talked about when he was younger," she adds. "'I want to race the Tour when I get older, Mum,' he would say."

Grounded Jonas Vingegaard is rarely that outspoken in public; he gives little away. Some have interpreted that as arrogance but that's too simplistic an interpretation.

Karina echoes the thoughts of many of Jonas's closest friends back in Denmark when she says: "I don't think there are many people at all like him. Despite his success in this sport, it doesn't get to his head. His feet are on the ground; he just says, 'I love to ride my bike, I love my friends and family and that's my life, that's all I need.'"

"A lot of people when they earn a lot of money like he does now go and buy big houses, big cars and other things. He's just not like that at all, he likes small, simple things."
A day to remember
As the publicity caravan passes us, Claus leaps from his seat, calling out to the floats when they pass in an attempt to grab some of the items on offer. Leclerc polka-dot bucket hats, Haribo, washing powder and musettes are passed to us, adding to the vast hoard already present on the camping table.

Despite having access to a genuine yellow jersey and Crédit Lyonnais lion, he's as excited by the Tour's pomp as any other fan. Karina smiles at her husband and explains that the majority of the memorabilia will be given to the grandchildren as gifts from the race when they return home.

She isn't as interested in the caravan haul as she has several handmade beaded bracelets around her wrist – one for the colour of each Tour jersey – given to her by a friend before she and Claus began their journey to France.

Claus explains that most nights on the road, he and Karina have pitched up in rural locations, preferring to stay out of the towns so they can enjoy the tranquillity of the French countryside.

Instead of travelling to find their nearest bistro or brasserie, Claus tells me that they've been living nomadically, cooking on a small barbecue outside the camper most evenings as they travel from campsite to campsite. "Once the stage is done today, we have to travel straight to the Tourmalet," Karina says. "It will be late so we'll cook something easy. After the next stage we'll head to a campsite again, take it easy for a couple of days and then move on ready for the next stage, that's the idea."

A few hours later, once Jonas has passed us and torn off towards the finish line in a blur, Claus and Karina stay by the roadside as I make a dash back to the iPad, desperate to catch the closing moments of the stage.

"You're going to miss it," I say as I call across to them. "It doesn't matter," Claus calls back. "[Mark] Cavendish and [Fabio] Jakobsen are still not in."

They both stand and clap and cheer until the very last rider has passed us with the broomwagon in hot pursuit.

As they return to sit at the table and listen to the post race analysis, they both chatter away in Danish and smile. What a day for them as Jonas distances Pogačar and is just seconds from the yellow jersey. Even when, 24 hours later, he misses out on a stage win at Cauterets-Cambasque and loses time to Pogačar, I know it won't take the sheen off the day at the roadside that his parents and I shared together.

Jonas's love of simplicity, an appreciation for what is rather than an unquenchable hunger for what might be didn't come from nowhere. It came from these two.

"We hope he will win again and he hopes that too," Karina says. "Although if he doesn't, you can't ever take away from him the fact that he won last year.

"If he finishes second, it's not a shame. There's so much that can go wrong and there's barely any difference between Jonas and Tadej.

"Maybe Tadej will win this year and then Jonas the year after. Who knows what these next weeks on the road will bring?"
Thank you for reading 20 articles this month* Join now for unlimited access
Enjoy your first month for just £1 / $1 / €1
*Read 5 free articles per month without a subscription
Join now for unlimited access
Try first month for just £1 / $1 / €1
Get The Leadout Newsletter
The latest race content, interviews, features, reviews and expert buying guides, direct to your inbox!
Tom is a News and Features Writer at Cycling Weekly, and previously worked in communications at Oxford Brookes University. He has reported from a wide range of races and events including the Tour de France and World Championships.