Chords to cols: How Jonas Vingegaard went from guitars to Grand Tours
If he'd followed a music teacher's advice the 2022 Tour de France winner might have ended up starring on a different type of stage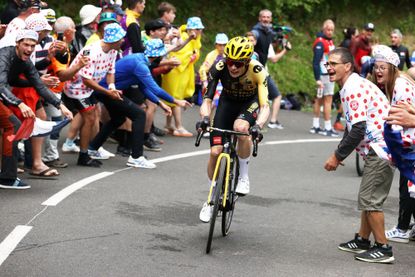 (Image credit: Getty Images)
Get The Leadout Newsletter
The latest race content, interviews, features, reviews and expert buying guides, direct to your inbox!
Thank you for signing up to The Pick. You will receive a verification email shortly.
There was a problem. Please refresh the page and try again.
This feature originally appeared in the 29 June 2023 issue of Cycling Weekly magazine.

The northernmost corner of Denmark at the top of the Jutland Peninsula is an exposed, windswept and unforgiving landscape. Surrounding the harbours of the Thy district - which were once used as staging posts for Viking raids across Europe in the 9th and 10th centuries - are vast plains, without a knoll, hill nor mountain in sight.

As the local people will tell you, to be a cyclist in the area means first knowing how to fight against the wind. Local riders simply don't have the luxury of long, warm drawn out evenings that many of their contemporaries in Europe's southern climes enjoy.
Perhaps that's why a young Jonas Vingegaard - who'd go on to win the 2022 Tour de France - would often require a gentle nudge to get out of the house and out on the road with his friends, Karsten Mikkelsen and Jesper Odgaard, to train.
"They often had to go to his house, knock on his door and say 'Jonas!' now we ride', but he couldn't get his ass out riding," says EF Education-EasyPost's Michael Valgren, a childhood friend of Vingegaard. "If it wasn't for Jesper, Karsten and all the other guys at the old club, I'm not sure he'd have been a pro. Along with his parents they really took care of him."
Cycling was just for recreation for young Vingegaard. Most sports are littered with stories of young athletes making grand statements of intent in the early days, shouting from the rooftops about just how good they were, puffed out chests filled with more promise than palmares. Not Jonas.
The reality is that he was only ever just Jonas Vingegaard, the friendly, polite and happy go lucky teenager from Thy, who didn't ever envisage the sporting immortality that seemed almost inevitable once he arrived at Jumbo-Visma.
"I'm not sure Jonas was ever aware back then of how good he would be," recalls Karsten Mikkelsen, Jonas' long standing friend and first cycling mentor. "He was and still is a pretty ordinary, normal guy in the best way. He just wanted to see how far he could take cycling and he took it the whole way."
Full of potential
"Jonas was the type of guy - I would not call him lazy - but if a trainer told him 'you have to ride for three to four hours a day tomorrow' he would go and do three," adds Mikkelsen. "It developed though and that's why he became so good when he turned professional, there was still a lot of potential."
It's hard to imagine that the same rider who recently achieved the biggest winning margin at the Critérium du Dauphiné for 36 years was once reluctant to train, although despite his occasional unwillingness to ride, his friends remember that Vingegaard simply oozed potential in the early days. He rapidly developed a willingness to fight in local races when the going got tough out on the roads of the Thy district.

But he nearly didn't go down that path at all. Long before cycling became the centrepiece of his identity - Jonas Vingegaard was a talented young guitarist, whose enthusiastic teacher was adamant that his future lay in music.
"Back in school he played guitar and for quite some time he was taking lessons," says Claus Rasmussen - Vingegaard's father - as he recalls his son's formative years in northern Denmark while speaking to Cycling Weekly.

"The teacher would say to us and Jonas 'He has to do something with this, maybe be a guitarist or something'" but then he tells us something that seems in keeping with young Vingegaards approach to cycling. "Jonas would always smile and say it was just for fun."

Remembering Jonas' early years in education, Rasmussen explains his son enjoyed school, rarely returning with homework to do as he'd already finished it before heading home. He was particularly fond of mathematics, Rasmussen says, to the extent that his primary school teacher in Hillerslev would sometimes ask Jonas to help out the other children in class.
Thy Cykle ring
Around that time Vingegaard played football. Although thanks to a few heavy tackles from older children, he never took to it as Rasmussen explains.
"The only thing he wasn't good at was football actually," Rasmussen says. "Actually that was why he began on the bicycle, because he was very small."

"I could see he was going off it and didn't want to play in the matches," he adds. "So I told him that the Tour of Denmark was starting in our town soon and asked if he wanted to go and see it."
After initial hesitation, Rasmussen explains that his son eventually agreed to go along, leading to him meeting members of Thy Cykle ring - the local club. While at the race he rode a time trial of sorts for children, and suddenly, he was hooked.

"Jonas had a good time actually, so suddenly he was a little bit interested," says Rasmussen. "We then borrowed a bicycle from the club, as some of the local clubs had organised a small race for some of the kids so we went along to it.

"He didn't finish first but came second I think," he recalls. "Jonas got 50 Danish krone, but that was no big deal as he got a little trophy. All the way home in the car he was sitting and looking at it, he was just ten years old back then."
As their son's interest really began to bloom, Rasmussen explains that both he and his wife, Karina, reiterated to him that winning wasn't everything. Instead his parents simply wanted to encourage him to have fun.

"We went to a lot of races in Denmark in that first year, and we actually saw that many of the other children were living like professionals even then," Rasmussen says. "The other parents were saying 'you need to eat this, you have to drink that' but we'd never done things like that with Jonas. You need to have fun at the start, enjoy it and make new friends."
Holidays in the mountains
Over the summers, the family would often holiday in the French Alps, giving Jonas a taste of some of the iconic passes he was starting to hear about. Claus and Karina regularly stayed with their children in a campsite at the base of the mythical Alpe d'Huez.

"For years we went on holiday in that area," Rasmussen says. "There's so many mountains you can ride. We could see when he was really young that he was very good at that. It was mainly because of his size. If you're on a two week holiday there and nobody is able to come and ride in front of you then you know you're very good, even at 15 or 16."

Being introduced to some of the toughest climbs in Europe at that young age would prove to be instrumental for Vingegaard. Rasmussen explains that at that point, his teenage son had grown increasingly frustrated with his lack of regular success on the flat roads of Denmark.
Eventually his naturally lightweight build and knack for climbing, combined with his large engine, would eventually see him turn professional.

In 2016 Rasmussen recalls his son undergoing tests while riding for Odder Cykle club - the same team that helped develop future Tour of Flanders winner Kasper Asgreen, now at Soudal Quick-Step - which revealed that he had an exceptionally high VO2 max while still just a teenager.
"They were testing all the guys in the team," says Rasmussen. "I think there were about ten. They did seven of them and everything was normal, then they did Jonas and everything went out of order."

According to Rasmussen, the man carrying out the test initially thought his machine was broken, such were the numbers involved.
"He said 'oh this cannot be right, I think my machine is broken' then he tested three other guys after that and it was normal again," he adds. "So it was not his machine, he'd just never seen anything like that before. At 17, Jonas' VO2 max was something around 97." Legendary Tour de France champion Miguel Indurain's VO2 Max has been reported at anywhere between 78 and 95 millilitres per kilogram of body weight per minute.
Always fighting
Later in the year, he began to draw interest from UCI Continental team ColoQuick-CULT. He would soon sign with the Danish squad led by Christian Andersen, now on the staff of the Norway-based Uno-X team.

Andersen explains that while he didn't know him at an early age, word had spread about the fearless young warrior from Jutland.

"He had always been fighting since he was little," says Andersen. "In Denmark you have to fight against the wind, not the mountains, so you really suffer if you don't have the power."
Vingegaard would soon flourish under Andersen, finishing second overall at the 2.1 class Tour of China in his first few months with his new team. According to Andersen, there was immediate interest in his young star from a team that had another future Tour winner, Egan Bernal, in its midst.

"At that time there was interest in him from Androni Giocattoli," he explains. "I told him I didn't think it was the right team to join. He was still young. It was a team with a lot of different nationalities so he would first need to learn Italian, Spanish or Portuguese so I thought it could be difficult."

Vingegaard would heed Andersen's advice, soon impressing on home soil for ColoQuick with second behind Asgreen at the GP Viborg in early 2017. However, misfortune followed as later that year an innocuous crash at the Tour des Fjords in Norway left him with a fractured leg.
As winter approached, Vingegaard was back training, determined to pick up where he had left off under Andersen's tutelage. It wasn't long before his climbing prowess, built during those holidays in France, would shine through.
During a training camp in Spain, 20-year-old Vingegaard broke the record for the fastest ascent of the Coll de Rates, near Alicante, which was previously held by WorldTour pro Tejay van Garderen. He rode the 6.5 kilometres in 13.02 minutes, beating the American by 12 seconds.
Captured on a video which soon went viral, Andersen believes it was partly responsible for attracting the attention of Jumbo-Visma.

Emil Vinjebo, formerly of ColoQuick, rode with Vingegaard on that March afternoon. Speaking to Cycling Weekly, Vinjebo says that while his potential was clear, he never imagined that his teammate would go on to win the biggest bike race in the world.

"I remember I was the last guy with him that day," says Vinjebo. "I went halfway up the climb at 500 watts, then he just went. I think Jumbo saw that and thought woah this guy can push some good power."

Vinjebo says that he believes that his former teammates' ability to maintain a "laid back, stress-free" attitude helped carry him to the top.
"He has a great sense of humour," adds Vinjebo. "He was the kind of guy who could do crazy efforts as well as drink a beer or two during a training camp, he was quite relaxed. To be at the top level in the cycling world you have to do it your own way, he's always had direction but stayed true to himself."
Hard graft in Hanstholm harbour
Despite his rapid development, Vingegaard wasn't a professional yet. He still needed a second job to earn extra money. In 2017, he took up work in a fish auctioneers in Hanstholm, before moving across the harbour to work for Karsten Mikkelsen, at a local seafood wholesaler.

Vingegaard worked the morning shift at Chrisfish, filleting then packing into ice a vast array of North Sea produce ready to be shipped to customers across Europe.
Mikkelsen, the co-owner of Chrisfish says: "Every day he'd start at six or seven am and work till 12 so he still had time to train in the afternoon."
The importance of starting a second job and having a backup option in case cycling didn't work out was something which Rasmussen remembers his son always understood.
"At that age we said to him, maybe it would be good to make some more money and have a plan b," Rasmussen says. "When you're young you need to learn that not everything is coming down from the heavens."

Eventually the hard graft at Chrisfish, the training camps with ColoQuick and the encouragement from his friends and family would pay off when in 2019, Dutch WorldTour giants Jumbo-Visma came calling.
Vingegaard completed a series of tests at Jumbo's base in Sittard, the Netherlands, before then being offered a contract. Andersen recalls that it was instantly clear that a move to the Dutch team was the right next step to make.

"We knew it was the right thing to do," he says. "It wasn't about the contract, it was about the team's mentality. It's important to go to a team where you can perform in a good structure and feel comfortable and that's how he felt with Jumbo-Visma."

In the aftermath of last year's Tour win, there was a lot of noise around Vingegaard and his quiet off the bike demeanour. Many even speculated that the reserved kid from northern Denmark had struggled with confidence, and being able to adapt to his new found fame. However, those closest to him soon debunked that myth.

"If you ask me, his confidence and self-esteem is much higher than people think," says Mikkelsen. "He just stays himself and knows what he wants. He is just satisfied with riding his bike, then going home to his family. He doesn't want anything else."

Unchanged from sporting success
Mikkelsen revealed that to those who knew him, and still know him now, he is the same Jonas they knew in the early days - a kind, hard working and fiercely loyal friend and family man - remaining unchanged from experiencing the glamour that comes with sporting success. Just like before, he remains indifferent to online social media chatter and not impressed by flashy expensive cars, money or fame.

According to former ColoQuick teammate Christian Moberg, Vingegaard is still the down to earth character that he always was and despite moving away to Glyngøre, has never lost touch from his roots in the Thy district and the start in sport and general life that it gave him.

"He could have gone to ten criteriums after the Tour last year, but he didn't," says Moberg. "Instead he put himself, his family and other parts of his life first which shows what kind of person he is."

"Once he delivered a big suitcase of jerseys and shorts to our old club in Odder. So the young boys who are just ten can ride around at home in a Jonas Vingegaard jersey. For me, That really shows who he is," he adds. "He knows and hasn't forgotten where he comes from."
Thank you for reading 20 articles this month* Join now for unlimited access
Enjoy your first month for just £1 / $1 / €1
*Read 5 free articles per month without a subscription
Join now for unlimited access
Try first month for just £1 / $1 / €1
Get The Leadout Newsletter
The latest race content, interviews, features, reviews and expert buying guides, direct to your inbox!
Tom is a News and Features Writer at Cycling Weekly, and previously worked in communications at Oxford Brookes University. He has reported from a wide range of races and events including the Tour de France and World Championships.