Exclusive interview: Team Sky's Geraint Thomas
Team Sky's Geraint Thomas speaks exclusively to Cycling Weekly about his remarkable start to 2015 and where he sees his career progressing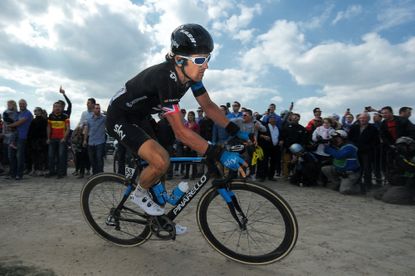 (Image credit: Getty Images)
When Geraint Thomas broke away with 4km remaining to solo to victory at E3 Harelbeke in March, it felt like it was the breakthrough moment the Welshman had been building up to for some time.
Years of close calls, and falling short seemed to be put to bed at that moment, along with his impressive displays winning the Volta ao Algarve and at Paris-Nice earlier on.
But things can seem very different from the outside looking in.
"E3 for sure was certainly a massive win, so maybe that [is my best moment] if I had to pick one," Thomas tells us as we meet at a hotel northern French city of Dunkirk. "[But] I'm not sure if it is [a milestone year] to be honest, because I think last year was a bigger step-up from what I'd done in the past."
A Commonwealth Games gold medal, as well as eighth in the Tour of Flanders and seventh in Paris-Roubaix, cemented the belief that Thomas had the potential for bigger things.
But that potential has been emerging for sometime. Rather than a single moment of realisation, progression from the British Cycling academy and a junior Roubaix win, to Olympic track glory and then to the WorldTour with Team Sky leaves Thomas feeling where he should be by now in his career.
"With [Chris] Froome you can kind of look at his career and say 'oh yeah, the Vuelta in 2011 that's where it went for him.' I think for me it just feels like it's been that steady progression all the way through, certainly on the road. I was a track rider until 2012 really and that was my main focus and maybe I neglected the road a little bit and didn't give it the full focus that I could have."
And while that progression is heading in the "right direction," could things be about change for Thomas at Team Sky? With Bradley Wiggins now back at domestic level with his eponymous team, is there pressure for the 28-year-old to fill the void as the leading British rider alongside Chris Froome?
"Each year I'm the lead rider in more and more races and its something you definitely got to get used to," he says.
"When you're riding for someone else there's no real pressure, [but there is pressure] in the way that you've got to do your job and you've got to be there at a certain point. But when you actually lead a team you're the guy that everyone's working for and committing their whole race to. It's definitely a step up."
But that step up requires some tough decisions, admits Thomas. That win in Harelbeke catered for the expectation that he was on the verge of a monument win, and perhaps a leading light in the changing of the guard at the Classics, as the likes of Tom Boonen and Fabian Cancellara approach their golden years.
Yet for some time Thomas has been touted as the next in line for a shot at a Grand Tour, having worked for so long to support others. Aside from the victory in Algarve and two career wins at the German race, Bayern-Rundfahrt, a major stage race victory has continued to elude him. But which way is Thomas going adapt his focus, or is success in both really attainable?
"That's the biggest dilemma I've got, figuring out if I want to commit to one or just keep doing what I'm doing," he says.
"When I'm in a stage race I love stage racing, I say 'oh yeah this is what I'm going to do now - stuff the Classics I'm just going to stage race.' But then you go to the Classics and say 'these races are good though sod them [stage races], I'm going to do the Classics.'
"It's tough really. I think we'll see how these one-week races go and you know if I end up being really competitive in the Tour de Suisse or the Dauphine, like Richie [Porte] is [I could lead the team].
"If you're consistently up there in those then you've got a good chance of being up there in a Grand Tour and that's something that would really excite me and really drive me. I think you could still drop in and do Flanders, but Roubaix may be a bit too much."
Success in those kinds of races brings new kinds of notoriety and fame, wanted or unwanted; something Wiggins has previously admitted he struggled with. For Thomas, whose laid-back and down-to-earth demeanour show no sign of someone caught up in the status of their own profile, it's still just all about going as hard as you can on your bike.
"When you speak to Chris Hoy or someone like that, he says you can't really go shopping in Sainsbury's much now, because he just gets stopped all the time.
"It's hard to say until you get there…I just like the normal things in life. I love racing my bike, racing hard and just going home being with my mates and my girlfriend. It may be difficult if I hit those sort of heights, but to hit those sort of heights you've got to win something big."
And while that something big still sits just agonisingly out of reach, there's no doubting which victory Thomas has been picturing the most.
"It's all about winning races like the Tour of Flanders. I've dreamt of winning that since I was 12," he says.
"[With] the Tour de France, even now dreaming of winning that is beyond a dream, you just dream of being competitive. You just want to be the best you can be."
Any thoughts of personal success in this year's Tour are quickly dismissed, as Thomas reverts to his well-travelled role of super-domestique in service of Froome.
With Froome's early exit from the Tour last year, and Porte fading later in the race after taking up leadership, Thomas grants that it was "enjoyable, but not in a nasty way" to have some freedom at last year's race to test himself, recording his highest ever finish in the GC at 22nd.
But there's still some room for Thomas to achieve his personal ambition at this year's race. The prologue time trial, stage three finishing on the Mur de Huy and stage four's cobbled sectors could all fit right for a possible stint in the maillot jaune for Thomas.
"The yellow jersey would be nice. I think the first week with the time trial, the Mur de Huy and then the cobbles you never know.
"Obviously with Froomey in the team I've got to be there for him and I can't just go off on a tangent and do my own thing, but I think the main thing for me going in the Tour would be to just keep improving from the last through years, be there right in the thick end of the race and be helping Froomey and Richie right to the death.
"I think that would be a big improvement for me."
It might feel like Thomas has been around for longer than his near 29 years could have allowed him, but with potential now turning into results, there's certainly still plenty to come.
Thank you for reading 20 articles this month* Join now for unlimited access
Enjoy your first month for just £1 / $1 / €1
*Read 5 free articles per month without a subscription
Join now for unlimited access
Try first month for just £1 / $1 / €1